Targeting Spawning Smallmouth Bass – Should It be Legal?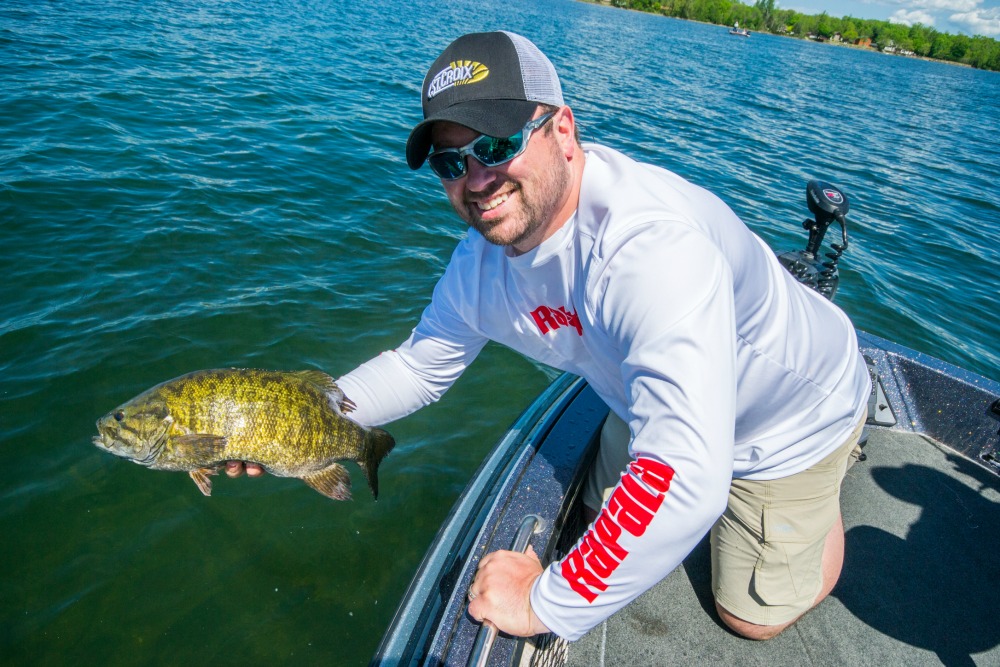 The cat is officially out of the bag. Mille Lacs Lake, a vast and varied fishery of more than 130,000 acres in central Minnesota, is arguably the best trophy smallmouth water in the world. For years, it has been in every top-10 smallie list that outdoors writers can scribe, and has been the focus of countless TV, video, photo and fishing media events. While lake-hype may be alive and well with countless "hot" destinations both coming and going, the fervor surrounding the quality of this lake's smallmouth bass is very real.
Take into account the bags of fish pulled day-in and day-out for the Bassmaster Elite's final event of the 2016 season. Despite a cold-front mid-tourney and some rougher water to contend with, Mille Lacs gave up more big smallies than any other event in Bassmaster tournament history. Consummate pro, seven-time angler of the year, and smallie-genius Kevin Van Dam said it best when he wrote, "I've never seen so many big, old smallmouth in one lake."
Fishing the Spawn – History Lesson
To Brad Hawthorne, long-time guide and Mille Lacs resident, the lake's ascent to greatness is not by accident. "We've enjoyed a 100 percent closed bass season (no catch and release) until nearly the end of May for decades," said Hawthorne, who describes the annual smallmouth spawn in Mille Lacs being nothing short of epic. "I've encountered certain sections of the lake where beds are stacked for nearly a mile of shoreline."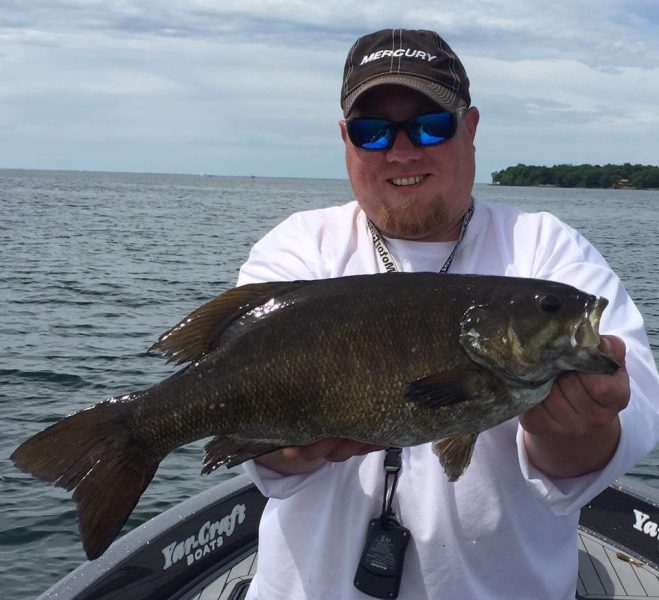 Hawthorne's upcoming YouTube video series titled "Smallmouth Chronicles" focuses on the lake and its brown bass, detailing ways to catch fish during the entire season without initially targeting them on their beds. Hawthorne stated, "There's always a bite for big bass here that doesn't include visually pitching to individual bedded smallmouth."
As Hawthorne notes, in 2015, a statewide catch-and-release bass season was created during the traditional early May walleye and northern pike opener. Historically in Minnesota, the bass season was closed until the end of May with prevailing thought being that these largemouth and smallmouth needed a respite from angling pressure during a time where especially smallmouth are quite vulnerable to being caught. Given that both largemouth and smallmouth are nest dwelling species that adapt well and thrive in a variety of lakes and rivers, the decision was made to increase opportunity due to the burgeoning popularity of bass fishing in northern waters.
The focus then becomes the statewide regulation and its effect on a single fishery such as Mille Lacs. Regarding bass spawning vulnerabilities, Minnesota Department of Natural Resources fisheries consultant Al Stevens mentioned that, "On an individual fish, there's an impact, but on the population level, we can't see any impact." Research nationwide seems to support the idea that on a gamma scale, overall regional populations of bass are unharmed by catch-and-release angling during the spawn.
While this might hold true regarding the vast majority of bass lakes in Minnesota, is Mille Lacs an outlier that requires more protection based solely on the fact that it may be the single-most popular water in the state? Enough fishing pressure could mean that targeting smallies on beds would potentially hurt the spawn, thus the fishery in the future. How much harm is debatable, certainly, but commonsense would dictate that it certainly doesn't help?
Catch and Keep
There may be bigger fish to fry . . . err . . . release, indicates Jim DaRosa, Mille Lacs smallmouth guide and founder of the Mille Lacs Smallmouth Alliance, who supports catch-and-release regulations both spring and fall, given proper handling of the fish. "Our group is focused on angler education, and 'freeing the fighter' as a slogan for greater catch-and-release awareness."
Of greater concern to the Smallmouth Alliance are regulations that allow for the catch and kill of smallmouth bass. Before 2013, Mille Lacs was a "one-over" lake, meaning anglers could keep only one smallmouth bass, and it had to be 21 inches or greater to do it. However, starting in that year, anglers could keep up to six smallmouth under 17 inches, with only one over 20 inches. Since then, regulations have been modified to allow only three fish under 17 inches, with only one over 21 inches, but DaRosa considers this catch-and-keep regulation to be the Alliance's #1 priority.
"Smallmouth on Mille Lacs can spawn well into June, leaving them vulnerable after the May 27 catch-and-release season lapses, and we believe strongly that these fish under 17 inches are the building block for tomorrow's true trophies." While not opposed to selective harvest of smallmouth, the Mille Lacs Smallmouth Alliance is concerned that decisions are being made based on socio-political pressures, not good science.
Focus on the Future
Long-time guide and Mille Lacs lake guru Tony Roach voices the same conservation concerns regarding the catch and keep of smallmouth, but also prefers not to target them when smallies are shallow and visibly guarding nests. "Most of my bites are active presentations for post-spawn fish, so I don't drop a jig on a bed when I don't have to," said Roach. Similar to Hawthorne, Tony prefers fishing many of the other smallmouth patterns that involve either pre-spawn fish, or bronzebacks that have worked past the short post-spawn funk immediately after moving from their beds.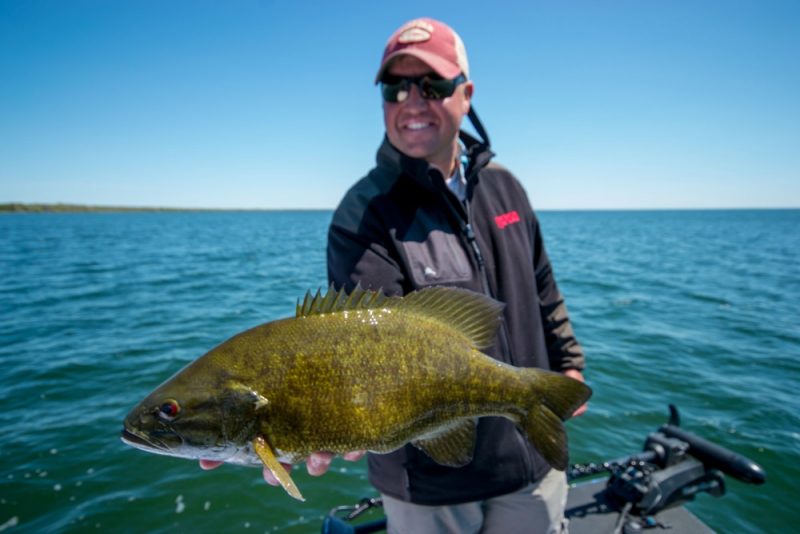 For now, the legality of fishing for smallmouth on their beds in Mille Lacs, or any Minnesota lake, isn't in question. Bass season on Mille Lacs and statewide opened May 13 in 2017, with a combined possession limit of three, and all bass 17-21 inches being immediately released, whether caught from a bed or not.
What is in question are the implications that targeting spawners may have for the best trophy smallmouth water the nation has ever seen. While the science may be clear when speaking of broad areas regionally or otherwise, it's difficult to predict what a dramatic amount of increased angling pressure may do to the health of the lake's smallmouth population. In the wake of national media attention and increased popularity from greater distances, no one truly knows how targeting these shallow bass at the peak of both their size and vulnerability may affect successive generations of Mille Lacs Lake smallmouth.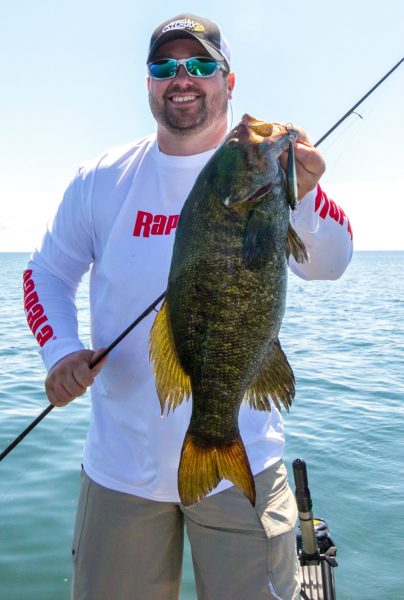 There exists a sliding scale of opportunity versus resource concerns that lies at the heart of this issue, and while not all stakeholders agree on targeting spawning fish on beds, nearly all agree that catch-and-release fishing for smallmouth bass – regardless of season – is a cause worth supporting. All three guides interviewed for this article are catch-and-release only, all year, for smallmouth bass, which is a point worth noting whether you support targeting them during the spawn or not.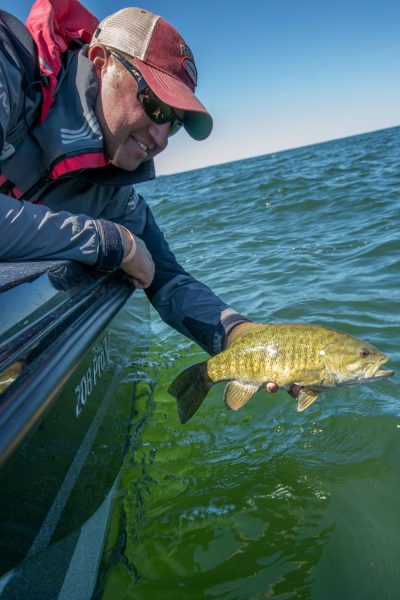 Images by Joel Nelson