updated 9:18 AM EST, Fri December 19, 2014
STORY HIGHLIGHTS
NEW: "They're only babies," says a relative of the family
The ages of the children were between 18 months and 15 years, police say
Police official: An injured woman is believed to be the mother of 7 of the children
"These are trying days for our country," the Australian Prime Minister says
(CNN) — Eight children, the youngest of them only 18 months old, have been found dead at a suburban home in the northeastern Australian city of Cairns in a case that the country's Prime Minister has called "an unspeakable crime."
A woman who the police believe is the mother of the seven of the children is in a hospital suffering from serious injuries.
The discovery of the bodies added to a traumatic week for Australia after a deadly hostage-taking in Sydney only days ago.
Police said they were called to the property in the Manoora area of Cairns on Friday morning after reports of an injured woman.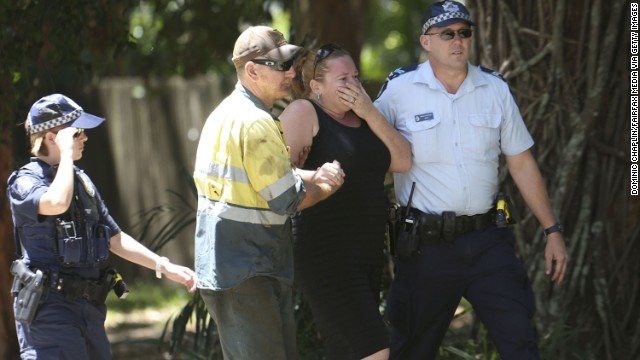 'Unspeakable crime' in Cairns, Australia
"During an examination of the residence, police located the bodies of the children, all aged between 18 months and 15 years," the Queensland Police Service said in a statement.
"They're only babies," Lisa Thaiday, a relative of the family, told CNN affiliate Seven Network. She said the horrendous scene had been discovered by a 20-year-old brother of the children.
"He got off the bus and he found his mother and siblings," she said.
Seven Network reported that the children were part of the local community of Torres Strait Islanders, an indigenous people from the region.
'A tragic, tragic event'
Police so far have no formal suspects in the case, said Detective Inspector Bruno Asnicar, but he sought to allay fears among local residents about the deaths.
"There's no need for the public to be concerned about this other than it's a tragic, tragic event," he told reporters near the crime scene, adding that the area is under control. he said police were "looking at anybody who's had any involvement."
"These events are extremely distressing for everyone," Asnicar said. "Police officers aren't immune from that. We're human beings as well."
Australian media reported that at least some of the victims were believed to have been stabbed. But Asnicar declined to confirm that, saying police are waiting for autopsy reports.
The injured woman, who is believed to be 34 years old, is being treated for her wounds and is helping police with their investigation, according to the statement. She's in stable condition and is not under police custody, Asnicar said.
Police believe the eighth dead child, who they don't think is one of the woman's children, is a member of the family, he said.
'Trying days for our country'
Images from the scene showed distraught neighbors gathered near the area cordoned off around the one-story house, where Christmas decorations were still hanging in the front window.
"It is so difficult to come to terms with what has happened on a street I have visited so many times among residents I have so often spoken with," said Gavin King, the local member of parliament.
Cairns is a remote coastal city of roughly 150,000 residents that's popular with tourists as a jumping-off point for visiting the Great Barrier Reef.
"The news out of Cairns is heartbreaking," Australian Prime Minister Tony Abbott said in a statement. "All parents would feel a gut-wrenching sadness at what has happened. This is an unspeakable crime."
Australia had already been shaken this week by a dramatic siege at a cafe in the heart of Sydney, in which two of the hostages were killed, as well as the gunman who was holding them captive.
"These are trying days for our country," Abbott said. "Tonight, there will be tears and prayers across our country for these children."
'They never annoyed us'
The road where the house is situated has been blocked off and the crime scene locked down while forensic experts carry out their work, police said.
Specialist police officers will also be arriving from Brisbane, another city in Queensland, Asnicar said.
"This is not a small job. We're not taking this lightly at all," he told reporters. "We will cover every angle before this is finished."
A neighbor of the house where the bodies were found said the family who lived there had always been very quiet. She told CNN affiliate Seven Network that she'd heard no noise from the house Friday as she sat in her front room — until the sudden burst of police sirens.
Another neighbor, Patricia Birch, said she heard some arguments on the property around 10 a.m., but she agreed the family weren't known for causing problems.
"They never annoyed us," she told The Cairns Post. "They were really good."