Snow is falling across the Northeast this morning, with the precipitation expected to turn to rain, leaving commuters facing messy travel conditions. The same storm system brought heavy snowand near-blizzard conditions from Nebraska to Pennsylvania.
Up to 10 inches of accumulation is expected in Boston and Connecticut, with coastal Connecticut expected to receive sleet and ice, as well as 5 to 6 inches of snow. Some areas of New England — including sections of Vermont, New Hampshire and Maine still reeling from last week's storm — could receive 12 to 18 inches of snow today.
Snow fell across New York State this morning, with the snow starting to change to rain in New York City and Long Island by 4 a.m.
The Philadelphia area could receive up to an inch of snow and a little ice before rain washes it away. More than 8 inches has already fallen in western Pennsylvania, with snow continuing to fall.
Snow fell Sunday all the way from eastern Nebraska to central Pennsylvania, a distance of more than 1,100 miles, making the storm the most far-reaching of the season. The heaviest snowfall total was recorded in Battle Creek, Michigan, with 18.5 inches, and 17.5 inches recorded at O'Hare International Airport in Chicago, the sixth-largest snowstorm ever recorded for the city.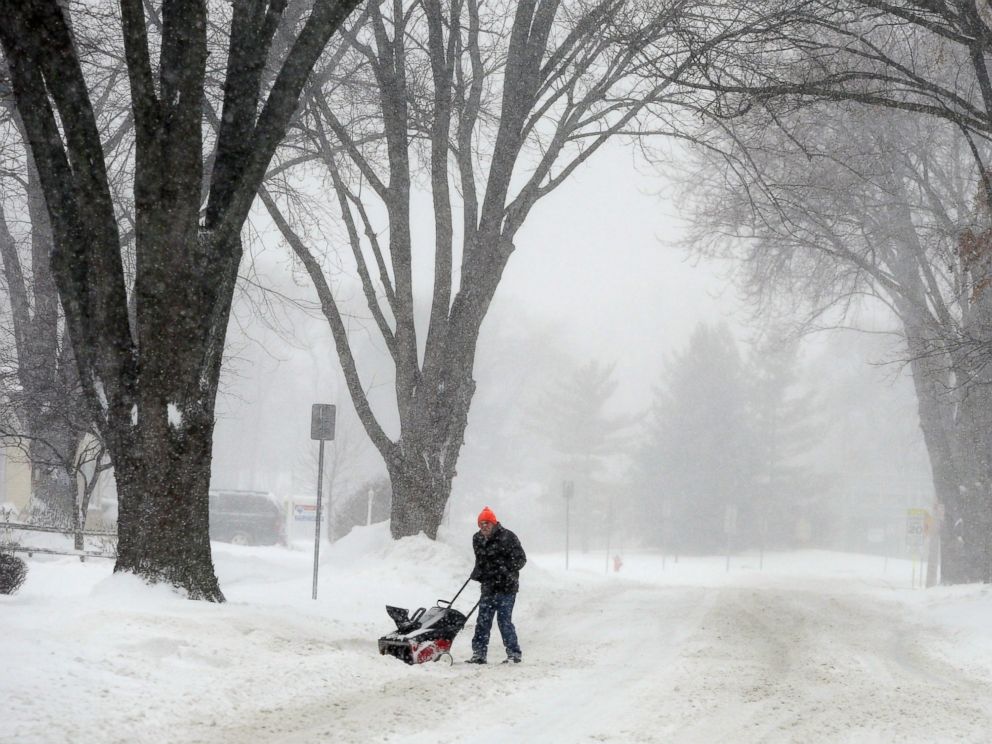 The storm has caused the cancellation of flights, classes and major court cases. More than 2,300 flights were canceled today with about one-seventh of them at Boston's Logan Airport. More than 2,000 flights were canceled Sunday in the Midwest, the vast majority of which were in or out of Chicago's two airports.
Public officials throughout New England announced parking bans ahead of the storm so crews could keep the roads clear.
The Associated Press contributed to this report.