The NRA's Spokeswoman Is Not Happy With Trump's Latest Hire
Anthony Scaramucci is pro-gun control and a "concerning" pick, Dana Loesch said in a now-deleted tweet.
WASHINGTON ― Here's something you may not know about President Donald Trump's new communications director, Anthony Scaramucci: He's an ardent supporter of gun control.
Scaramucci, a businessman and longtime Trump ally, has tweeted for years about his support for tighter gun laws, stating in 2012, "I have always been for strong gun control laws." He's also made the point that keeping a gun in your house is more likely to harm you or your loved ones than a potential intruder (which is true).
His views are not sitting well with Dana Loesch, the national spokeswoman for the National Rifle Association. On Friday, just as news was breaking about Scaramucci's hiring, Loesch tweeted that Trump had made a "concerning" choice in Scaramucci since he has "a contrary position" to the president on gun rights. The tweet was later taken down.
Here's a screenshot of the now-deleted tweet, compliments of Wayback Machine, a digital archive of the web.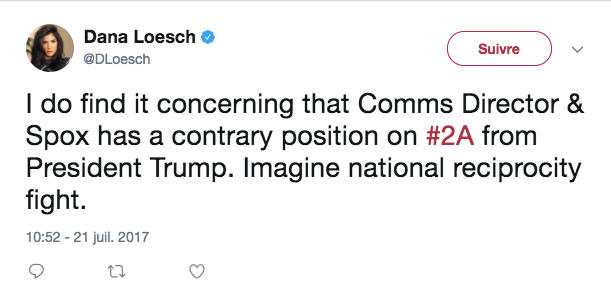 Loesch is suggesting that Scaramucci's presence in the White House could complicate the NRA's effort to advance its No. 1 legislative priority: national concealed carry reciprocity, which would require states that issue permits for concealed weapons to also recognize such permits from other states. Trump has publicly supported this policy.
Jennifer Baker, another NRA spokeswoman, told HuffPost that Loesch was only speaking for herself when she questioned Scaramucci's views.
"Dana Loesch was not speaking on behalf of the National Rifle Association when she commented on recent White House personnel decisions," she said.
Asked if the NRA does, then, have an official position on Trump hiring Scaramucci, Baker said only, "No."
A White House spokeswoman did not respond to a request for comment on Trump's and Scaramucci's different views on gun safety.
Though her original tweet is deleted, Loesch tweeted out a few more thoughts about her concerns with Scaramucci.