Hunter Discovers Massive 29-field Pot Farm on Texas Deer Lease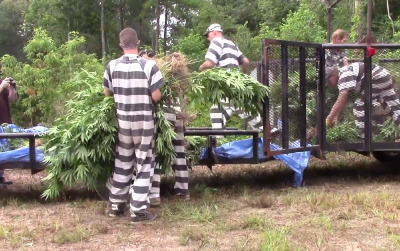 Officers and Polk County inmates spent more than four days at an illegal marijuana grow site, netting more than 100,000 plants.A Texas hunter is being credited for uncovering what officials suspect may be the largest marijuana bust in state history. According to
KHOU
, the hunter first discovered the illegal farming operation when he arrived at his deer lease in Goodrich last Saturday. In total. he found 29 fields containing more than 100,000 plants. Law enforcement officials estimated that the total value of the farm exceeded $175 million.
"This is a moneymaking invention. I mean, we're talking about a large scale operation and these guys handle business and the guys we have here, our guys that come in, just like regular workers," Polk County Chief Deputy Byron Lyons told KTRE. "They're going to areas that [are] close to a creek area or close to a lake or a pond and they will get in the middle of a growth of trees, and help cut that out and then grow within."
Instead of preparing his lease for deer, the hunter called the local sheriff's office. A short while later, more than 80 law enforcement officers from Texas Parks and Wildlife, the Polk County Sheriff's Office, the Livingston Police Department, and other agencies descended upon the site. No suspects were found on the sprawling marijuana farm, but police did arrest one man in the nearby forest. From what officers found at the scene, it is believed that another six suspects had been camping at the location.
"These guys are building trenches, pumps, set up irrigation systems," said Lyons."They've got their own little camps, tents, tent cities. It's a pretty elaborate set up."
The discovery of the massive marijuana grow site came as a surprise to local residents, who say they never suspected criminal activity in the woods. The farm was so large that police had to call in a helicopter to find outlying fields. Not all of the plants have been recovered as of Wednesday.
Officials warn motorists on US 59 near Livingston to keep their doors locked and to not pick up hitchhikers. These types of farming operations are especially dangerous to any hunter, hiker, or angler that stumbles onto them, since police say that the growers are typically armed and potentially dangerous.