I sit. I wait. I sit. I wait. I fidget and sit and wait and wait. Then I sit and wait some more. Are we deerhunting yet?
Happy December 2015 my sitting and waiting BloodBrothers. How goes your sitting and waiting deerhunting dreams?
Or is that nightmares?
By Ted Nugent
And so it goes, sitting and waiting, waiting and sitting, hour after hour, day in, day out, week after week, month after month, I am logging more treestand time again this season than probably any human being in the history of deerhunting. I hunt on, I sit on, and I wait on, and let me tell you, it really does get crazy frustrating out here.
Let me make it perfectly clear that what you see on the various TV hunting shows is not the way it happens in the real world. At least I don't think so! In fact for this old die hard, gungho, never give up backstrap addicted sitting and waiting deerhunting fool, it sure as hell doesn't happen in my real deerhunting life the way we see it unfold on so many hunting TV shows out there, I am damn certain of that.
"it wasn't long……" "Before too long……." "It was just a short while before….."
I don't think so. I personally have only experienced one of these "It wasn't long before the big buck showed up….",maybe once every two or three hundred hunts, and even then I can't recall a giant buck ever showing up quick, turning broadside and looking the other way while I casually drew my bow and zinged an arrow into his ribcage for a quickie hunt/kill.
Now mind you, I can dream and I excitedly look forward to such an occasion, but like I said, there have been a handful of reasonably quick kills in my 60 plus years of deerhunting, but it is rare enough for me to recall in vivid detail each of the three or four occurrences out of thousands of sets.
With me, like I expect with most deerhunters across America, we put in our time, long, patience testing prolonged time before we get a crack at a deer, much less a crack at a mature buck.
And this 2015 deerseason has been a doozy for treestand time investments and patience testing vigils.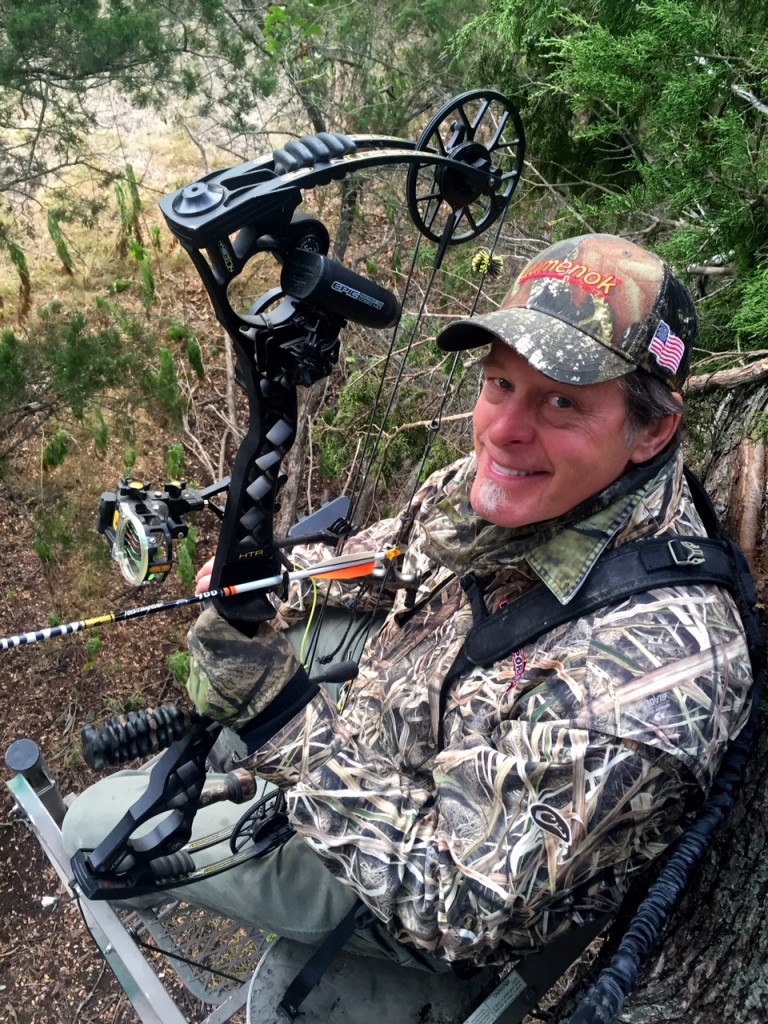 On our phenomenal Michigan wildlife paradise where I always spend my Octobers and Novembers, deer sightings have been the lowest ever in more than 48 years. Ouch! It even hurts just to say that!
I have lucked into a number of exciting doe kills and one killer mature swampbuck, but the typical stimuli of consistent deer sightings has left me rather frustrated more often than not.
Thank God for the squirrels, rabbits, pheasants and waterfowl hunting to kick me in the rear end for in between deer hunt excitement.
The number of repeat sets without a sighting of a single deer was starting to actually depress me and I found myself constantly reminding myself to be happy for the simple reason that at least I was hunting.
But like the old vulture cartoon clearly stated; "Patience my ass! I want to kill something!"
I was beginning to seriously question my previous estimates of deer numbers on our grounds, very worried that the recovery from the EHD breakout a few years previous was not happening on schedule.
Then much to my relief, on the afternoon of the first heavy snowfall of the season in November, I finally saw over 30 deer including eight young bucks emerging from our big swamp up into the hardwoods and foodplots.
Boy that felt good!
With plenty of deer being killed in the area, including some real monster trophy bucks, I was once again reminded of the number one deerhunting rule of engagement; right place, right time.
It always has and always will boil down to "right place, right time" and no matter how clever we think we are, Ma Nature has a set of her own rules of engagement and there is not a darn thing we can do about it.
So now on to Texas where deerhunting dreams abound and where I expect my luck will change for the better. I will let you know next week right here at deeranddeerhunting.com.
Meanwhile, I believe I shall sit and wait, and wait and sit, because that is what I do.
Ted Nugent is an award-winning musician and writer, with numerous best-seller books including "Ted, White and Blue: The Nugent Manifesto," "God, Guns and Rock 'n Roll," and "Kill It and Grill It: A Guide to Preparing and Cooking Wild Game and Fish" with his wife, Shemane, among other books. Be sure to check out his website for more news on his latest music, thoughts and upcoming shows, and also at World News Daily, Newsmax and Daily Caller for more insights.
– See more at: http://www.deeranddeerhunting.com/blogs/ted-nugent-blog/the-waiting-game-throttles-on#sthash.zCJU0uMm.dpuf