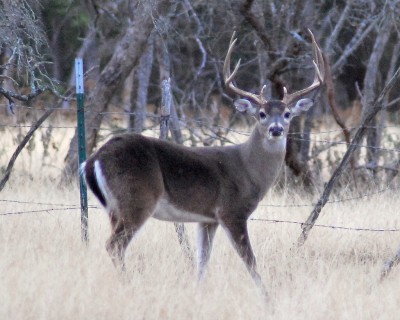 Last Friday, six members of the Congressional Animal Protection Caucus sent a letter to Secretary of Agriculture Tom Vilsack and leading US Department of Agriculture (USDA) officials, urging them to consider "immediate action" against the interstate transport of deer. In theletter, which was obtained by The Indianapolis Star, the lawmakers pointed to concerns that the transportation of captive deer risk spreading disease to wild populations and livestock.
"Interstate commerce in captive cervids has exploded in recent decades, as canned-hunting facilities seek to increase their profits by breeding deer and elk with abnormally-large antlers and stocking large herds so they can guarantee a kill," the letter states. "Animals raised at canned-hunting facilities often are accustomed to human presence and therefore do not flee at the sight of trophy hunters. The lack of fair-chase in these operations has led hunting groups like Boone & Crockett, Pope & Young, and the Izaak Walton League to oppose such unsporting activities."
The issue of high-fence hunting has long pitted state wildlife agencies against captive deer breeders, locking states like Indiana in long and complicated legal battles. Those who oppose high-fence hunting ranches point to the animals' susceptibility to chronic wasting disease (CWD) and bovine tuberculosis. Some hunters also say that hunting game within an enclosed space is unethical. However, those who support high-fence facilities view them as great ways to harvest exotic animals and allow older or disabled hunters easier access. Larger facilities also have thousands of acres at their disposal. At such ranches, supporters say the deer are just as wild as those beyond the fence.
"For decades we have not allowed any animal shot behind high-fence establishments in our record books," Pope and Young Club President Jim Willems told OutdoorHub in a previous interview. "That goes back a long time. Recently the issue on high-fence hunting has come very much to the forefront and we believe it's a real problem. We believe it's unethical and dangerous to our sport. Our stance on high-fence hunting may seem harsh to some hunters, but we find the issue very disconcerting."
Captive deer remain a divisive topic among sportsmen and many worry that the issue could tear apart the hunting community. Animal rights groups uniformly oppose the operation of high-fence hunting facilities.
"Taking exotic 'game' animals to non-native environments for hunters to kill is another problem: If they're able to escape and thrive, they can pose a threat to native wildlife and disrupt established ecosystems," PETA states on its website.
The primary author of Friday's letter to the USDA, US Representative Jim Moran (D-Virginia), wants the agency to prohibit interstate transport of captive deer entirely. Many state game and fish departments support greater regulatory control over how these deer are moved, and already 21 states have banned the import of captive deer.
"The desire of a few hunters to have a big deer antler trophy on their wall does not justify the threat posed by these operations," Moran told the Star.
A spokesperson from the USDA said the agency is now reviewing the letter.