Houston flood: Addicks dam begins overspill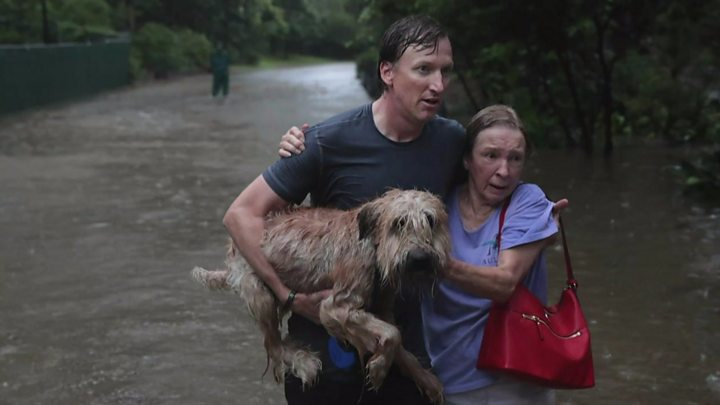 A major dam outside Houston has begun spilling over as Storm Harvey pushes the reservoir past capacity, a Texas official says.
Engineers have tried to prevent nearby communities from being inundated by releasing some of the water held by the Addicks dam.
But flood control official Jeff Lindner says water levels are now over the height of the reservoir edge.
Harvey has brought huge floods to Texas and is starting to affect Louisiana.
Unprecedented rainfall has forced thousands of people to flee their homes. At least nine people are reported to have died in the Houston area.
While spillover would not cause the Addicks dam to fail, it would add more water to the Buffalo Bayou, the main river into the fourth largest city in the US.
Flood officials are also concerned about the Barker dam, which also controls the Buffalo Bayou west of Houston.
President Donald Trump is visiting Texas on Tuesday to see for himself the devastation caused by Hurricane Harvey, now downgraded to a tropical storm.
Rain is continuing to fall. In Houston, forecasts suggest that some areas in and around the city could see up to 12in (30cm) of rain on Tuesday, bringing the total rainfall from Harvey to about 50in.
Harvey was the most powerful hurricane to hit Texas in more than 50 years when it made landfall on Friday near Corpus Christi, 220 miles (354km) south-west of Houston.
The slow-moving storm – currently over the Gulf of Mexico – will continue to dump huge amounts of rain in the coming days over already flood-hit areas.
"Additional heavy rainfall overnight is expected to worsen the flood situation in south-eastern Texas and south-western Louisiana," the National Hurricane Center said.