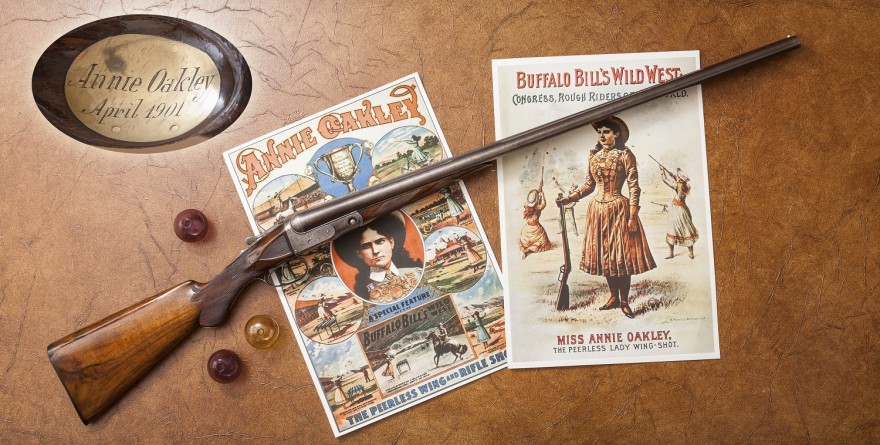 "I'd like to see every woman know how to handle firearms as naturally as they know how to handle babies."
Do you know who said that? No, it was not an election candidate exercising a major debate faux pas. The speaker of this quote was none other than one of the most renowned shooters of all time—Annie Oakley.
Born in 1860, she met Sitting Bull in 1882 as a part of the Buffalo Bill Wild West shows. After seeing her split a playing card in half with a single shot and put five more rounds in it before it hit the ground, the Native American Chief gave her the nickname, "Little Sure Shot." It stuck. She was the finest, and by far the most famous, exhibition shooter in the world.
Oakley headlined the Buffalo Bill Wild West shows throughout the United States and Europe. Dignitaries begged to meet her. A German member of the royal family implored to be included in a trick act, even if it meant having ash shot off the end of a cigarette in his mouth. She was an international force, a superstar of the late 1800s.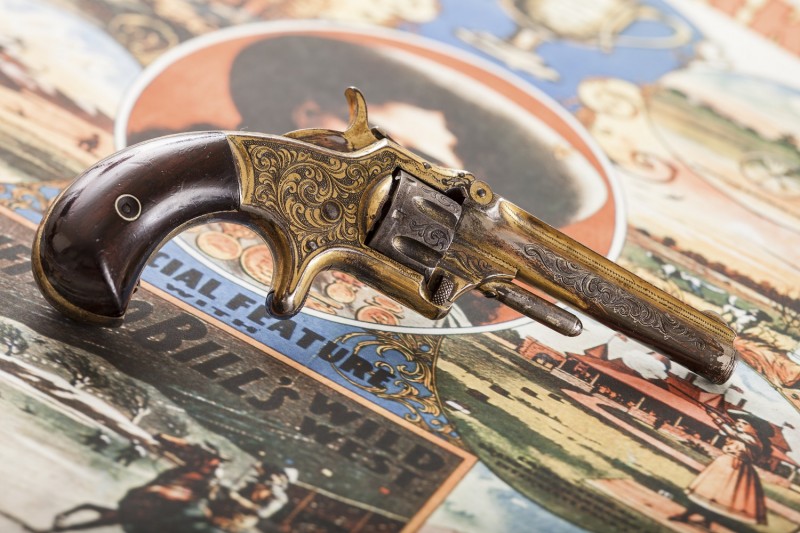 "Oakley" was her stage name, picked, most likely, from a cityscape neighborhood in Cincinnati, Ohio. She was born Phoebe Ann Moses (some claim Mosey). A mere eight-year-old when her father tragically died, she stepped in to provide food for the family by hunting. She was good—they didn't lack for protein.
"The love of the gun," she is known to have said, "must have been born in me."
Vaudeville acts of that era commonly traipsed singers, acrobats, and jugglers across the stage. Some entertained with tricks or slight-of-hand magic acts. When a trick shooter by the name of Frank Butler traveled through Ohio around Thanksgiving of 1875 as part of a variety show, he met his local match.
"As pre-show publicity, Butler extended a shooting challenge to locals wherever they went," said Jim Supica, Director of NRA museums. With $100 at stake, a lovely 15-year-old girl stepped to the firing line. It threw Butler off, as a young girl was the last opponent he expected. Phoebe Ann, or "Annie," hit 25 out of 25 targets and Butler missed his last, scoring 24 out of 25 targets.
Did he really miss or throw the shot? Whether it was true love or an eye for a great business and shooting partner, Butler courted young Annie. When illness sidelined Butler's stage partner, Annie stepped in for him. Annie and Frank later married, launching their own act that would bring Annie into the shooting sports' limelight and garner crowds around the globe.
Frank and Annie continued to travel the world with Buffalo Bill Cody's show.
"Annie Oakley is not just one of the most famous shooters of all time," continued Supica, "she is America's first female international superstar."
You can see some of Annie Oakley's firearms, including the Parker shotgun given to her by husband and manager Frank Butler (seen at the top of this article) and her Gold Hibbard .410 side-by-side shotgun in Springfield, Missouri at the National Sporting Arms Museum.
Gold Hibbard side-by-side shotguns were produced from 1880 to 1929 by the Hibbard, Spencer & Bartlett & Co. firm (which later became the parent company of True Value Hardware Stores). The Hibbard .410 on display in Missouri was a gift from Annie Oakley to a woman named Mary Estelle Beavers. Oakley enjoyed giving firearms as souvenirs to attendees at her dazzling trick shows—and most often to other women. Another one of Oakley's firearms on display at the National Sporting Arms Museum is her Smith & Wesson Model 1. She gave the .22 Short, seven-shot revolver to a competitor who scored well, but lost, during a shooting competition.
Another gift shotgun from Buffalo Bill Cody and her Stevens single-shot pistol are displayed in the Petersen Gallery of the NRA National Firearms Museum in Fairfax, Virginia.
In addition, a complete display on Annie Oakley and several of her firearms enjoy great prominence in Cody, Wyoming at the Buffalo Bill Center of the West.
If you're interested in the history of the Old West or one of America's first superstars, don't miss your chance to see some of Annie Oakley's firearms in person at one of these museums.
K.J. Houtman is the author of the award-winning Fish On Kids Books series, chapter books for eight- to 12-year-olds with adventures based around fishing, camping, and hunting. Her work is available at Amazon and local bookstores. Find out more at fishonkidsbooks.com.