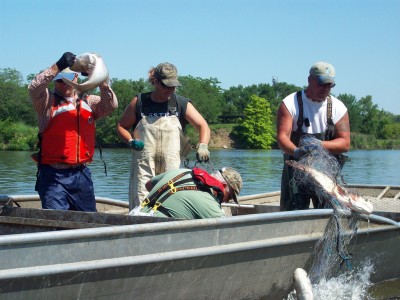 Lawmakers in the Great Lakes region are urging immediate action after a recent survey found silver carp 76 miles from Lake Michigan, the closest that species has ever come to that lake. According to the Asian Carp Regional Coordinating Committee, sampling crews from the US Fish and Wildlife Service (USFWS) discovered the two small Asian carp as part of an on-going monitoring plan in waterways near the Great Lakes. The fish were found in the Marseilles Pool of the Illinois River on October 22 and were captured by electrofishing.
"These small fish are approximately 12 miles closer than our previous finding. Currently, there are three locks and dams, the electric dispersal barriers and more than 76 miles between them and Lake Michigan," the committee stated on its website. "This finding brings the leading edge of juvenile Asian carp detections about 66 miles closer to Lake Michigan than it was at the beginning of 2015."
There is still a long way for the invasive carp to go before it reaches the lake, not to mentioning passing an electric barrier, but a recent study by USFWS researchers found that small fish—like juvenile carp—could bypass the locks and even electric barriers by piggybacking on commercial barges. Researchers found that golden shiners were more than capable of passing through the lock and dam system by catching a ride on these ships, although scientists do not currently know if carp can do the same.
The news that silver carp had come so close to Lake Michigan, as well as the revelation that there was a possibility for the species to completely disregard the expensive—and so far, effective—electric barriers has lawmakers concerned. US Senators Debbie Stabenow (D-MI) and Gary Peters (D-MI) wrote a joint letter to Shaun Donovan, Director of the Office of Management and Budget, calling for funding to prevent the carp from getting any closer to the Great Lakes. The letter specifically asked for $3 million to fund a US Army Corps of Engineers feasibility study and additional funds for surveillance, research, and prevention.
"Earlier this year, Senators Stabenow and Peters introduced the Defending Our Great Lakes Act, which focuses on the Brandon Road Lock and Dam, a crucial chokepoint in the Chicago waterway system about 25 miles south of the city," stated a press release from the Senators' offices. "The bill requires the Army Corps to equip the lock and dam with technologies and countermeasures that would stop the spread of Asian Carp. It also requires the Army Corps to use the Brandon Road complex as a testing site for other technologies that can be incorporated at other locations to stop Asian carp."
Asian carp species such as bighead or silver carp are considered highly invasive and a major threat to the Great Lakes. Since Asian carp species out compete native fish, experts say that a breeding population could be disastrous to the region's $7 billion sportfishing industry, not to mention commercial fishing as well.