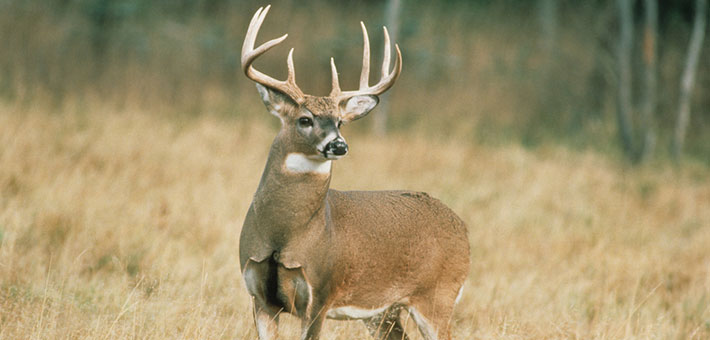 After court documents were unsealed this week, Federal officials announced that a Georgia man was sentenced in US District Court to pay $1.6 million in fines for the illegal trafficking of live whitetail deer. According to the US Fish and Wildlife Service (USFWS), it is the largest fine ever issued for a wildlife crime in US history.
Officials said that 61-year-old Benjamin Chason of Climax, Georgia and another man, Ohio resident Donald W. Wainwright, illegally transported live deer from Florida and Georgia to Ohio. Their actions not only violated the law, but also greatly endangered the native deer population in several states.
"The deer herds involved with these shipments were not certified to be free from chronic wasting disease, tuberculosis and brucellosis," the USFWS said in a press release. "Federal law requires interstate shipments of deer to be certified to be disease-free; because the deer in the present case were not certified as disease-free, deer herds (both captive and wild) in Florida were potentially exposed to these diseases. Tuberculosis and brucellosis can also be transmitted from deer to cows and humans."
Chason and Wainwright carried out the scheme by taking federal identification tags from certified deer that had died and placing them on their own animals. Occasionally they would also transport deer in closed cargo trailers. They then passed off the animals as certified and provided them to hunting reserves, deer farms, as breeders, and even shipped off high-priced semen from large bucks. Wainright personally owned hunting facilities in Ohio, despite not holding a legal license to operate one, and would charge individuals upwards of $50,000 for a hunt. The customers would then unknowingly transport their harvests back to their home states, including Florida, Michigan, Alabama, and Virginia.
The two men were finally caught when conservation officers from the Ohio Division of Wildlife noticed deer noises coming from a cargo trailer driven by employees of Wainright. From there, it was simple enough for authorities to track down Chason and Wainright. Both men pleaded guilty to multiple violations of the Lacey Act in 2014.
In addition to the $1.6 million fine, Chason was sentenced to three years of probation and four months of home confinement. He also agreed to make a public statement in North American Whitetail Magazine and perform 150 hours of community service. Wainright was sentenced to 21 months in prison, a $125,000 fine, and 200 hours of community service.
Federal wildlife officials stated that they were pleased with the conclusion of the case, but many observers, especially hunters, said the two men got off with little more than a slap on the wrist. The Boone and Crockett Club observed that incidents like these hurt the wildlife that sportsmen and women do so much to protect, and give the wider hunting community a black eye.
"Anti-hunters need to look no further than unethical hunters to provide them [with] all of the ammunition they need to convert the non-hunting public into anti-hunters," the club wrote on itsFacebook page. "If hunters don't pay attention to these issues and police themselves, the non-hunting and anti-hunting public will do it for us through strict regulation and all-out bans."
Officials said that Chason has already paid his fine in full. A large portion of the funds—$600,000—will go to the Ohio Department of Natural Resources for preserving wildlife habitat. The remainder will be given to state and federal agencies to fund wildlife diversity programs.
Image courtesy Herbert Lange/US Fish and Wildlife Service