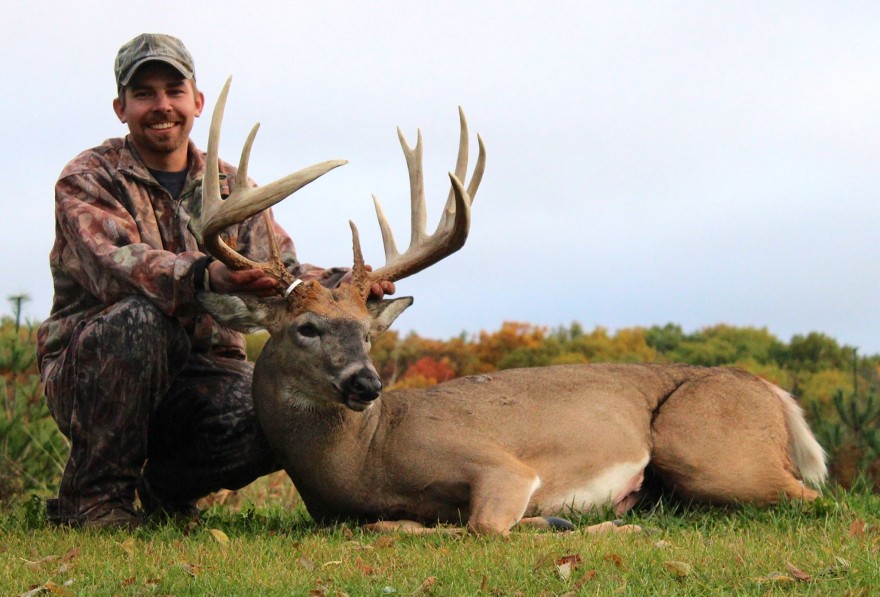 The Wisconsin Buck & Bear Club (WBBC) recently announced that they've certified a new state archery record for a typical whitetail buck that was harvested by bowhunter Adam Hupf in Dodge County on October 11. The new record was panel-scored to an official measurement of 200 4/8 inches gross and 191 6/8 inches net, surpassing the previous record taken by Dusty Gerrits in 2012.
"The 'Adam Hupf buck' taken in Dodge County Wisconsin is another example of why Wisconsin continues to be the number one spot in North America for trophy whitetails," the WBBC said in a press release. "Wisconsin currently ranks number one in Boone & Crockett and Pope & Young record entries."
According to Bucky Ihlenfeldt, president of the Northeast Chapter of the WBBC, Hupf took the deer at a distance of nine yards with his bow. The hunter had already taken large trophy-sized deer in previous years, including a 200-inch non-typical and a 160-class typical. Yet when Hupf recovered the deer with the help of his father and brother, he could hardly believe his eyes.
"In the days that followed, Adam had kept his deer story on the quiet side," Ihlenfeldt wrote for the Appleton Post-Crescent. "He found from his previous experience that it might be good to just sit back and wait on this one."
Sure enough, news of the large buck got around and more of Hupf's friends wanted a look at the deer. Believing that his harvest may have a chance at the state archery record, Hupf decided to contact Mark Miller, a measurer for the WBBC, Pope & Young, and Boone & Crockett. The resulting panel drew five other measurers from the WBBC, and the club announced the buck's record status earlier this month.