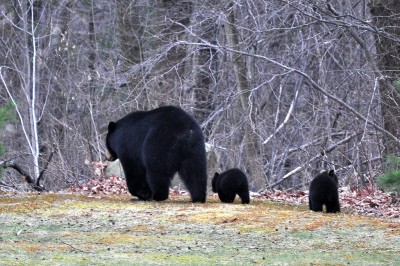 A Vermont man is facing charges of attempted murder, arson, domestic assault, and reckless endangerment after he set fire to a cabin near Milton, urged his girlfriend to jump off a cliff, and opened fire on a vehicle with a rifle. According to the Milton Police Department, 28-year-old Lucas Gingras blamed the series of events on a bear attack.
The incident occurred last Wednesday when Gingras and his girlfriend Ladonna Merriman, 44, were staying at his cousin's cabin. The Burlington Free Press reported that the couple had been drinking throughout the night when Gingras began to take the drug MDMA, which is also known as "Molly" or "ecstasy." Police believe that Gingras then put the drug in Merriman's drink without her permission, after which the two began hallucinating. Gingras later told police that the drug may have led him to hallucinate about a female bear attacking the cabin.
"[Gingras] said the attack by the bear that had two cubs, occurred at the hunting cabin. He said the bear tried getting into the cabin where he and Merriman were staying and somehow a camp stove got knocked over catching the cabin on fire," stated a press release by the Milton police.
Gingras later told police that he had intentionally turned over the stove to set fire to the cabin. Subsequent investigation by Vermont Fish and Wildlife wardens found no sign of a bear at the scene.
"It was determined that Gingras had not actually seen the bear, but only believed they were being chased," said Milton police's Detective Corporal Paul Locke.
Police believe that Gingras led Merriman to a cliff behind the burning cabin and urged her to jump down to escape the marauding animal. Merriman voiced her doubts about the bear, but eventually jumped. She fell about 70 feet onto a rock, breaking her back and puncturing her lung. At this point Gingras made his way down the cliff and dragged Merriman nearly a mile to a parked vehicle, where Merriman was left in the front seat. Gringas later returned with a friend and a rifle.
"When the friend was gone Gingras discharged the firearm into the backseat and trunk claiming the bear was now in the trunk," Locke told WVNY.
Police officials said the owner of the cabin, Steve Underwood, later drove Merriman and Gingras back to their residence. Merriman was later transported to Fletcher Allen Health Care hospital with severe injuries. Gingras is currently being held at Chittenden Regional Correctional Facility on $100,000 bail. Police did not release information on whether Gringas intended to cause harm to Merriman, although the department has stated that it is currently waiting for a toxicology analysis to confirm the presence of MDMA in the couple's blood.