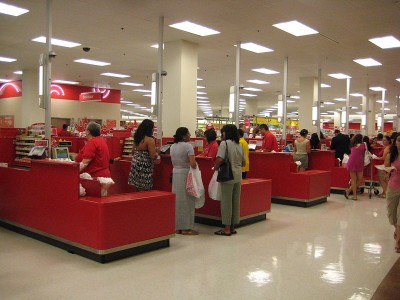 On Wednesday Target interim CEO John Mulligan released a statement on the company's press website, requesting that customers leave their firearms at home. The decision came after weeks of debate and controversy as well as a petition from the gun control group Moms Demand Action for Gun Sense in America. The petition reportedly resulted from several instances of open carry in or near Target stores, which the gun control group claimed to have be disruptive and threatening to other customers.
Mulligan said that the issue was a complex one for Target's leadership team, but the company ultimately decided that firearms were "at odds" with its family-friendly environment.
"As you've likely seen in the media, there has been a debate about whether guests in communities that permit 'open carry' should be allowed to bring firearms into Target stores," Mulligan wrote. "Our approach has always been to follow local laws, and of course, we will continue to do so. But starting today we will also respectfully request that guests not bring firearms to Target—even in communities where it is permitted by law."
The statement prompted a flood of responses on social media, including both support and criticism for the new policy. The comments from Second Amendment advocates have largely been negative, expressing disappointment and even betrayal from an organization some have previously seen as pro-gun. Open Carry Texas (OCT), an organization dedicated to promoting the legal right to openly carry firearms, said on Facebook that it will honor the request from Mulligan. OCT is accused by some, including other gun rights advocates, of instigating the open carry demonstrations that have led to Target's decision. The group was also highlighted by many following Chipotle's request that firearms owners keep their guns at home.
"Engaging in the businesses of interfering with or making a scene at private corporations is something to which Open Carry Texas has never lowered itself, a practice we will maintain," OCT stated on Facebook.
As with the statement from Chipotle, Mulligan's request is not an "official" ban on firearms in Target stores.