Trump boy scout Jamboree speech angers parents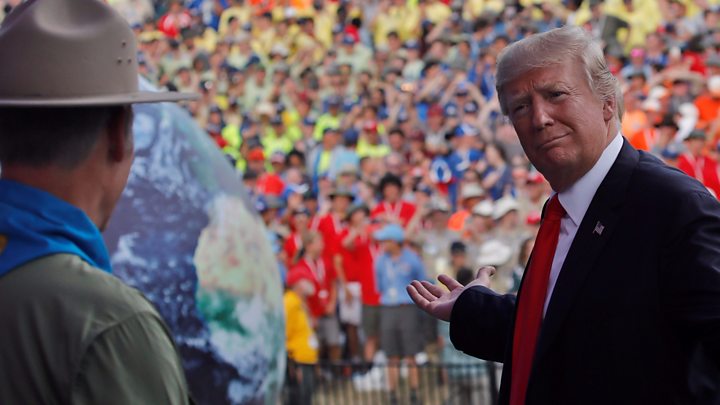 Parents have expressed anger after President Donald Trump delivered a highly politicised speech to tens of thousands of boy scouts.
Mr Trump started by saying: "Who the hell wants to speak about politics?"
But his speech to the Jamboree in West Virginia railed against Barack Obama, Hillary Clinton and the "cesspool" of politics, drawing whoops and cheers.
One parent wrote: "Done with scouts after you felt the need to have my kid listen to a liar stroke his ego."
The Jamboree of the Boy Scouts of America is held every four years and drew about 35,000 scouts from the ages of 12 to 18 to the latest event, held in Beaver, West Virginia, on Monday evening.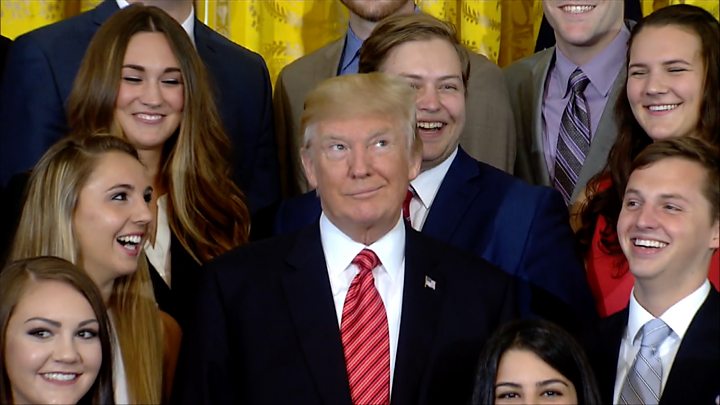 The Jamboree had issued a warning on its blog about being respectful.
It read: "Chants of certain phrases heard during the campaign (e.g. 'build the wall', 'lock her up') are considered divisive by many members of our audience, and may cause unnecessary friction."
But in a rambling 35-minute speech, Mr Trump whipped up a response of boos, cheers, chants and jeers as he lambasted fake news, Hillary Clinton's election campaign and President Obama's failure to address a Jamboree in person.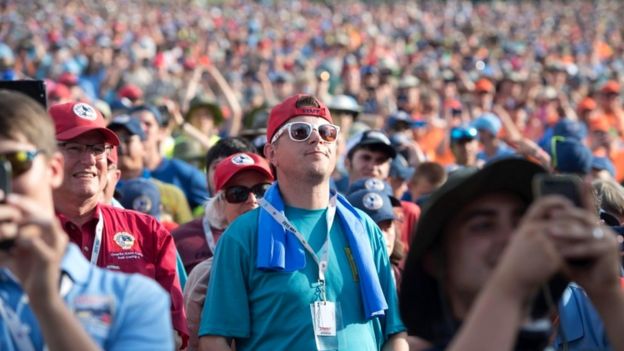 Responding to the criticism of the speech, the Boy Scouts of America insisted it was "wholly non-partisan and does not promote any one position, product, service, political candidate or philosophy".
It said the invitation to Mr Trump was a "long-standing tradition and is in no way an endorsement of any political party or specific policies".
But the Boy Scouts of America Facebook page carried a number of angry posts.
Jude Nevans Cleaver wrote: "I am the proud mother of a former scout who was sheltered from that pack of lies speech at the Jamboree. Done with scouts after you felt the need to have my kid listen to a liar stroke his ego on our time."
Debbie S. Milligan said: "Wow, this is what you are teaching the Boy Scouts? To be disrespectful to a Past President. One that had been a Boy Scout, unlike the current President. Completely disrespectful!"
On Instagram, Pete Souza, the former chief official White House photographer, posted a picture of President Barack Obama meeting a scout.
"I can assure you, POTUS [president of the United States] was not telling this Cub Scout and the Boy Scouts who followed about his electoral college victory," Mr Souza wrote.
Many parents, lobbyists and politicians took to social media to cite the 107-year-old organisation's values, and to suggest Mr Trump had failed them.
Lobbyist for women's and LGBT rights Amy Siskind tweeted: "If the Boy Scouts organization has any decency, they'll come out with a statement tonight denouncing Trump, and giving instructions for all troop leaders to speak to these boys about what they just heard and why it was wrong."