Washington (CNN) — Attention Hillary Clinton, Jeb Bush, Rand Paul, Chris Christie, Marco Rubio, Ted Cruz and everyone else "seriously considering" a run for president.
You can stop pretending now.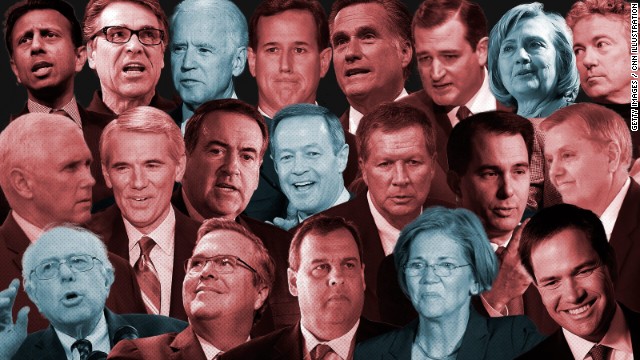 Potential 2016 contenders
The midterm elections, which traditionally double as the unofficial starting gun for the next presidential race, are finally over. But the truth is that the 2016 campaign has been under way for two years.
It started the moment President Barack Obama vanquished Mitt Romney two Novembers ago, when a multitude of Republicans began assigning blame for the loss and not-so-subtly offering themselves up as the future of the party. And Democrats started looking toward Hillary Clinton, the party's presumed standard-bearer, who was just months away from stepping down as secretary of state and wading back into the churn of the political world.
READ: Republicans takes control of Senate
In a broad sense, the basic contours of the race have changed little since then. The choice in 2016 continues to look like a clash between Clinton and whichever Republican can emerge from a huge pack of ideologically diverse candidates.
But the internal dynamics of the Democratic and Republican races are shifting dramatically.
For Clinton, a two-year run on the lucrative paid-speaking circuit and a rocky national book tour renewed questions about her political instincts, and provided new ammo to Republicans eager to raise fresh questions about a historic political figure whose reputation is fairly well baked in to the public consciousness. But only a handful of Democrats seem willing to challenge her for the nomination, and none of them boast the kind of star power that Obama tapped to overcome the Clinton juggernaut in 2008.
Republicans, meanwhile, are still figuring out how to communicate with a changing electorate that — even after the Republican tsunami on Tuesday — still favors Democrats in presidential years. The party is bracing for an electoral free-for-all, the likes of which it has not seen since 1964 when conservative Barry Goldwater emerged from the Republican convention in San Francisco as the nominee. Unlike recent cycles, there is no de-facto front-runner — and even Romney has seen his name floated by Republicans anxious about a presidential field that is as unpredictable today as it was two years ago.
'Wide open' field
"The Republican field is wide open but a little more competitive than last time," said former Minnesota Gov. Tim Pawlenty, a GOP candidate in 2012. "While the Republican field was big last time, a lot of the folks running didn't have all the tools in the toolbox to put together a successful campaign. That's in contrast to this cycle, where the people being mentioned today have an existing reputation, can raise an incredible amount of money, and have more serious public policy credentials and positions."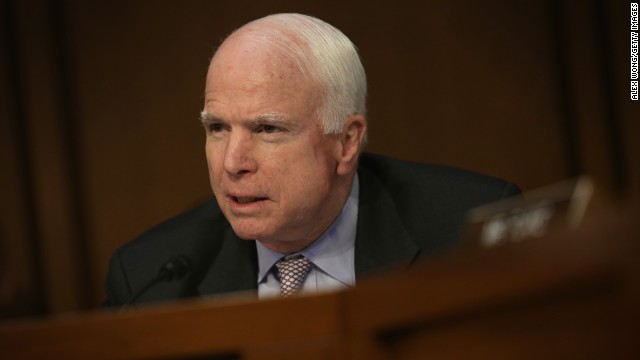 The new GOP power players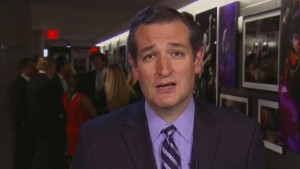 Sen. Ted Cruz dodges McConnell question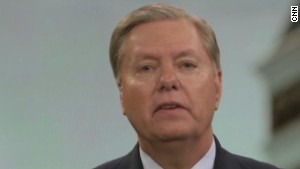 Graham: Obama a 'distant figure' in D.C.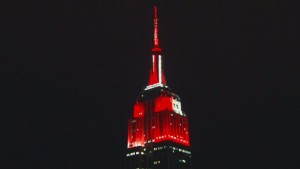 Republicans take control of U.S. Senate
Though the Republican names being tossed around have more prestige and thicker resumes than the GOP cast of characters in 2012, the party has also endured scandals and stumbles over the last two years that have tarnished some of their brightest hopes.
One early golden boy, Christie, was sullied by the "Bridgegate" scandal in New Jersey and political compromises, like the New Jersey DREAM Act, that scored points with the public at large but rankled activists on the right. His sinking reputation opened the door for Bush to fill the space as the preferred choice of the Republican establishment, especially its powerful donor class.
Still, as chairman of the Republican Governors Association, Christie regained some political mojo this week after helping lift GOP governors to impressive wins in blue states like Maryland and Illinois.
READ: Governor's race shockers
Another young star, Rubio, a Cuban-American senator from Florida, saw his luster fade after he introduced an immigration bill that landed with a resounding thud on the right. Louisiana Gov. Bobby Jindal, an Indian-American Rhodes scholar, is a health care policy specialist who chided the GOP after the 2012 race as "the stupid party." But he undercut his thinking-man brand by diving headfirst into hot-button cultural fights — Google "Jindal" and "Duck Dynasty" — that seem more fit for cable news than the executive mansion.
There's Paul, rooted in controversial libertarian politics, who emerged in the Senate as one of the more thought-provoking public figures in recent memory, with calls to expand to the party's reach to younger people and minorities. His biggest asset — a sometimes undisciplined shoot-from-the-hip authenticity — might also be his biggest liability.
WATCH: GOP's big night in 90 seconds
Cruz, a Harvard-educated conservative legal mind, captured the hearts of social conservatives and tea party activists, but earned the enmity of Republican leadership in Washington by becoming the face of the government shutdown.
Those are just a few of the Republican faces vying for spots on the national stage with 15 months until the Iowa caucuses — and none of them have a lock on the nomination.
"We are going to have a very large field, and there won't be a true front-runner," said Haley Barbour, the former Mississippi governor and veteran GOP strategist.
Former presidential candidates Rick Perry, Rick Santorum and Mike Huckabee are eyeing repeat bids, and other ambitious Republican governors like Jindal, Ohio's John Kasich, Indiana's Mike Pence, Wisconsin's Scott Walker are considering the idea, too. Kasich and Walker both won big on Tuesday.
The bench goes even deeper, to Ohio Sen. Rob Portman, a budget whiz and the rare Republican who supports same-sex marriage, neurosurgeon Ben Carson, a conservative author and fixture on the conservative speaking circuit, and South Carolina Sen. Lindsey Graham, a foreign policy hawk.
Hillary Clinton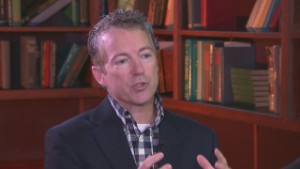 Rand Paul calls out the Grand Old Party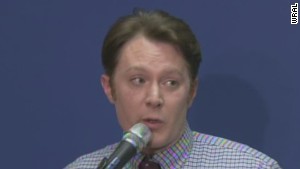 Clay Aiken loses bid for House seat
As it stands now, at the end of 2014, all of them will be vying for the right to take on Clinton, the Democratic heir apparent once again.
Despite her unquestioned status as the early front-runner for the Democratic nomination and the White House in 2016, Clinton's re-emergence on the political scene, covered ad nauseum by the press, has not been smooth. She defended her buck-raking lecture tour — which took her to private equity firms and interest groups that have opposed Obama's agenda in Washington — by saying that she and her husband, former president Bill Clinton, needed the money because they were "dead broke" after they left the White House.
WATCH: Dems lose big under Obama
She delivered an impatient and defensive answer in June when pressed about her "evolution" on same-sex marriage, a reminder of her fraught relationship with the news media. In a CNN town hall that same month, she said the government should deport children from Central America who illegally crossed the border seeking refugee status, a position that put her at odds with Hispanics lobbying for a more humane immigration policy.
Clinton's return to the campaign trail this fall has been considerably smoother.
At event after event for Democrats in tough midterm races, she rallied voters with punchy and well-received speeches, though one recent flub — saying that businesses don't create jobs — suggests she isn't entirely comfortable channeling the populist fervor that's taken hold among the Democratic grassroots.
Unlike 2008, when she shied away from the history-making potential of her gender, she has been unafraid to embrace women's issues in her stump speeches, talking about issues like abortion rights, access to contraception and paid sick leave.
Her efforts meant little, though: Hillary and Bill Clinton campaigned in 25 states for more than 30 candidates at 75 campaign events. And in a wipeout year for Democrats, pretty much everyone they shared a stage with lost. The same was true for any Democratic surrogate but the klieg lights shine brighter on the Clintons.
Exits polls signaled a harsh rejection of the status quo and the Obama administration, raising a number of questions for Clinton, both about her rationale for running and how she plans to address her relationship with the unpopular president during a campaign.
READ: Obama alone after midterm repudiation
But the more immediate question now swirling around Clinton is not if she will run — but when.
Some Democrats have urged Clinton to signal her intentions quickly, perhaps by forming an exploratory committee sometime over the holidays, allowing her to begin hiring staff and laying groundwork for a national campaign apparatus. A presidential announcement in the New Year— in January, for instance — would also deny some oxygen to other Democrats flirting with a run.
Others say Clinton can afford to wait much longer — perhaps until the the spring — and are urging her to do so to avoid being dragged into the muck of campaigning too early.
"Those who are urging her to start running now are those who think she has to respond to every attack or allegation or question from a reporter," said Donna Brazile, the Democratic strategist who managed Al Gore's campaign in 2000 and a CNN contributor.
"She does not. She has the luxury of time. She can focus on what kind of candidate she wants to be. She can test her message. The last thing we need is a candidate who comes rushing out of the box to start appearing at J-J Dinners. She needs to take some time off and recap," Brazile said.
The constellation of groups with ties to Clinton-world — the Ready For Hillary super PAC, Correct The Record, the Center for American Progress, Priorities USA Action, the super PAC co-chaired by former Obama campaign manager Jim Messina — appear primed to ramp up for a presidential run now that the midterms are in the books.
Politico reported last week that David Plouffe, Obama's longtime political guru, recently advised Clinton and two of her top confidantes, Cheryl Mills and John Podesta, on how to build out a campaign organization and avoid the kind of self-inflicted blunders that plagued her in 2008.
Other Democrats
Though most of the Democratic Party's rising stars are deferring to Clinton when it comes to 2016, a handful of others say they will make a decision about the race whether Clinton runs or not.
Maryland Gov. Martin O'Malley, who has compiled a progressive record on social and economic issues in his home state but is little-known nationally, is the most serious of them. He has logged more miles campaigning for Democratic candidates in 2014 — more than Clinton or anyone else in the party — collecting chits for a potential campaign in the process. He took a serious hit on Tuesday when his lieutenant governor and hand-picked successor in Maryland, Anthony Brown, was felled by a Republican who ran almost exclusively against O'Malley's record on taxes.
READ: Takeaways from Election Night
The Democratic Party's biggest grassroots star, Massachusetts Sen. Elizabeth Warren, has said repeatedly that she will not run, but those statements have been ignored by progressives who demand that she join the race and address her signature issues — income inequality, student loans and financial sector reform among them. Tuesday's election revealed a deep well of economic discontent in the country that Warren seems primed to tap into.
Vice President Joe Biden, all-too-aware of Clinton's strength with the party establishment and mindful that launching a campaign would immediately emasculate an already-diminished president, does not seem close to making a decision about the race even though he insists it's under consideration.
Other potential candidates like Vermont Sen. Bernie Sanders or former Virginia Sen. Jim Webb would, at first glance, enter the race as protest candidates, hoping to tap into simmering anxiety about Clinton's moderate policy inclinations and her ties to Wall Street.
Democratic voters, in Iowa and elsewhere, have been telling reporters for months that a contested but not-too-divisive nomination fight would be healthy for the party and the primary process. A Clinton-versus-whoever primary would allow other Democratic up-and-comers a chance to introduce themselves, ensure a debate over the hot-button issues of the day, and give operatives the ability to keep the party's mechanics in working order. Even with token opposition, a primary would help keep Clinton in fighting shape ahead of the general election.
The chances of Clinton losing the nomination again are at this point slim, even though her poll numbers have slipped with the general public since leaving the State Department and re-entering politics. But polls also show that her reputation is sturdier among Democrats than it was at this point six years ago — and her lead over potential foes is even larger.
Competitive primary
"A strong competitive primary would be important and helpful," said Matt Sinovic, the executive director of Progress Iowa, a grassroots progressive organization in the caucus state. "But if there is a primary, it would be mostly stylistic, because she is such a known quantity. Look at the issues we care about, like raising the minimum wage, protecting Social Security, getting immigration reform done. Clinton is strong on every one of those issues."
The Republican race is less predictable, and dramatically so.
READ: 4 things Christie said after the midterms
Lording over the Republican race from balmy Florida is Bush. The son of one president and younger brother to another, Bush's last name continues to be something of a liability with the American public, even as memories of his brother's troubled presidency fade.
But his family pedigree is also an asset within the Republican establishment and the political insiders whose opinions matter greatly in the early stages of a presidential race. Bush is a known commodity to GOP donors and a trusted and pragmatic voice on policy issues — especially immigration reform — for Republicans who want to expand the party's appeal beyond its conservative base and bring Hispanics into the fold.
"There are probably two people who have the capacity to define the Republican race very quickly," said Tom Rath, an influential Republican attorney in New Hampshire. "One is Mitt Romney. If he got in, he would be the unquestioned leader. But he is not going to do it. The other is Jeb."
Bush, the 61-year old former Florida governor, is genial, well-liked by Republican donors and professionals and earnest to a fault about his 2016 thought process and whether he can run for president "with joy in my heart." In the words of one Republican donor who spent time with him at a South Carolina fundraiser last month, "people just like being around him."
"Jeb would immediately tap into the single biggest group of fundraisers, he would do that in a big way," Rath said. "There is a cachet that goes with his name. The aura around him is that he is the serious one."
Though he barely cracks double digits in hypothetical 2016 polls, Bush would immediately command the attention, and the dollars, of the GOP establishment. That would mean less early running room for other Republicans, like Christie, Rubio or Kasich, hoping to tap into the same financial network.
Bush versus conservatives
But aides to other potential candidates have eagerly pushed the idea that the moderate and easy-going Bush, who last ran for office in 2002, is out of step with the conservative bent of today's Republican Party and the frenzied pace of today's hyper-active media environment, fueled by outside political spending, social media and a new generation of political reporters.
READ: Voters say yes to paid sick days
"If Jeb gets in, a lot of the money will go there right away, sure," said an adviser to another potential GOP candidate. "But a significant amount will still be there. Look, we will have to see if the Bush name still works. If Jeb is able to understand how the game is played now compared to when he was last playing in the majors. If he can hit those fastballs."
Two of the issues precious to Bush and his admirers in the Republican establishment — education and immigration reform — are poison pills for a passionately vocal slice of the Republican base.
A champion of charter schools and education vouchers, Bush is a defender of the Common Core academic standards that many conservatives view as federal intrusion into local schools. And sweeping immigration reform has been a non-starter among right-leaning activists for almost a decade, so much so that another Republican presidential wannabe, Rubio, backed away from the very same immigration overhaul he co-sponsored in the Senate after grassroots conservatives revolted over the bill.
"There are three issues that are non-starters with conservatives," said Steve Deace, a nationally syndicated conservative talk radio host based in Iowa. "Don't even show up if you support Obamacare, Common Core or amnesty. And Jeb Bush is the poster child for two of those three."
Echoing a long-held view of conservative activists, Deace said the Republicans must nominate an unapologetic fiscal and social conservative in 2016 — someone like Cruz — or risk alienating the party's base in the general election. Nominating Bush or Christie, he said, would spell disaster.
"Whatever pagan deity the Clintons pray to, they are on their knees praying to run against a Bush or a Christie in 2016," Deace said. "If one of those guys was the nominee, their base turnout models would make what McCain and Romney did look like the the charge of light brigade. They would be lucky to get to 40 percent in a general election."
READ: Why voters hate the Obama economy
The enduring tension between the GOP's conservative and pragmatic wings — a feature of the party since the earliest Taft-Dewey clashes of the 1940s — will again be at play in 2016.
The primary will test whether tea party conservatives like Cruz still have the kind of firepower, and megaphone, that they did in 2010 and 2012. The Republican establishment, which has tried to bring order to a volatile nomination process that they believe wounded Romney in 2012 by forcing him to tack too far right before the general election, will also be challenged.
There are some things GOP leaders cannot control, namely the unpredictable power of outside money and the ability of a single donor to prop up a candidate of his or her choosing, even long-shots.
Wild card
That wild card has the potential to throw campaigns wildly off-message and needlessly drag out a divisive primary fight, especially in media-saturated political environment that rewards over-the-top statements and fuels silly micro-controversies. But even the most by-the-book candidates must bow to this new campaign reality, Pawlenty said.
"Money, celebrity, and schtick will matter," said Pawlenty. "And having billionaire friends who can fund Super PACs is probably key, too."
But GOP leaders and their allies in the business community, who largely succeeded in sidelining controversial conservative voices in 2014, are working to reign in the nomination process. The Republican National Committee imposed new rules to shorten the nominating calendar and reduced the number of GOP debates in an effort to keep the intra-party battling to a minimum.
"There is a clear risk of having too many subgroups who don't agree with each other," Barbour said. "We must avoid that. We have to nominate somebody who can unite our party and attract a large numbers of independents and moderates and conservatives."
Though their grassroots base may disagree, Republicans in Washington have also been blunt about the need to expand the party's reach beyond white voters, whose share of the national vote shrinks ever year. At the same time, the country's Hispanic and Asian populations are on the rise.
Among the potential candidates, Bush, Christie and Paul have been blunt about the need for Republicans to temper hardline rhetoric on immigration and do more to appeal to Hispanics, a rapidly-growing piece of the electorate that broke 3-1 for Obama over Romney in 2012.
What GOP leaders know all-too-well is that the voting population looks very different — younger and less white — in a presidential year than it does in a midterm. The Republican National Committee's "Growth and Opportunity Project" — the so-called GOP "autopsy" issued in the wake of their 2012 loss — said the party has to drastically change the way it talks to Hispanic voters.
"If Hispanic Americans perceive that a GOP nominee or candidate does not want them in the United States (i.e. self-deportation), they will not pay attention to our next sentence," the report said.
Javier Palomarez, the president of the U.S. Hispanic Chamber of Commerce, said that roughly 60,000 Hispanic-Americans turn 18 every month. Another way of looking at that figure: Every 30 seconds, a Hispanic becomes eligible to vote.
"These numbers speak for the themselves," Palomarez said. "They tell the tale. What I have personally told President Obama is that never before has the Hispanic vote been more critical in electing an American president, and to me, never again will an American president be elected without openly courting the Hispanic vote."
Barbour, who flirted with running for president himself in 2012, expressed confidence that Republicans have learned from their mistakes after a six-year hiatus from the White House, and will be willing to overlook ideological differences to get behind a nominee who can win.
"Our party is so concerned with the direction President Obama has taken us these last six years," Barbour said. "I am reminded of the Democratic Party in 1992, when they were out in the wilderness. They had been out of the White House for 12 years, and they were not about to be left outside again. It gets cold outside."