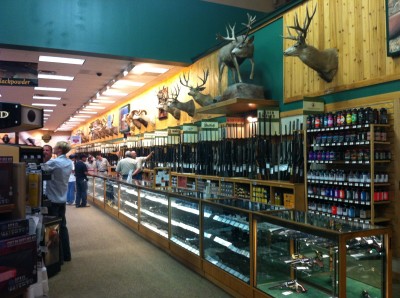 Televisions, gaming consoles, and toys were not the only top sellers on Black Friday this year, as customers turned out in droves for firearms as well. Since the early 2000s, the day after Thanksgiving has been one of the busiest for retailers, and that means busy as well for the federal employees who run background checks at the FBI's criminal justice center in West Virginia. Only 500 employees are responsible for every request that comes in through the National Instant Criminal Background Check System (NICS), which is about one per second on an average day. On Black Friday last year, NICS' capacity was tested with more than two checks per second—totaling 145,000 background checks in 24 hours. This year broke that record, with more than 175,000 checks recorded throughout the day.
"We are averaging three checks per second," FBI spokesman Stephen Fischer told CNN on Friday. "The challenge is to have staff keep up with this volume. We do that by limiting personal leave, asking employees to work extra shifts and reutilizing former […] employees to serve in NICS during this busy period."
This year's Black Friday came a mere 2,000 checks below the all-time record for background checks in a single day, which still belongs to December 21, 2012. More background checks means more firearm sales, and the FBI brought in 100 extra employees to ensure that even despite the surge, the checks were being conducted properly.
"Black Friday sales do have a tendency to pick up a little bit," Mark Warner, an employee of the Blue Ridge Arsenal store in Chantilly, Virginia told WJLA. "A lot of people are out there shopping with family and friends, and they want to find a good deal."