Cookin' in Camo: Coniglio alla Cacciatora (Hunter-style Rabbit)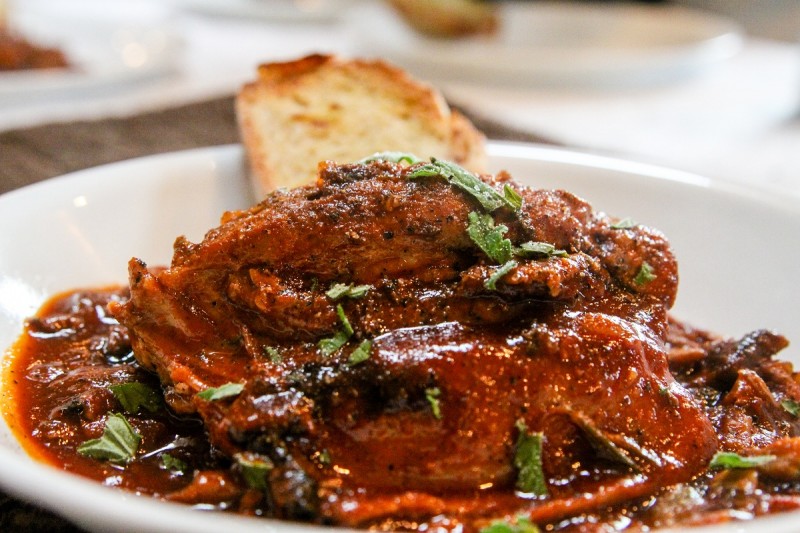 Rabbit hunting is pretty emotional for me. Like many, I cut my "outdoors teeth" on small game hunting. Some of my earliest memories are of trudging through chin-high brush carrying a pocket knife decorated with an American flag, while my dad walked ahead of me toting a gun. Now a grown man, I still love hitting the fence rows and brush piles in search of those "wacky wabbits." The difference between then and now is that I get to carry the gun!
Serves 4 to 6
Prep time: 2 hours and 30 minutes
Cook time: roughly 2 hours
Join me as we once again go "forest to fork" with this hearty and comforting coniglio alla cacciatora (Italian for "hunter-style rabbit"). After a cold, snowy December morning in the field, nothing screams warm and cozy more than this dish. Braising is one of my favorite winter techniques—it allows the flavors to meld and deepen while the rabbit becomes rich and tender. Pour a drink, turn on the music, and get cookin' in camo! I promise this recipe will not disappoint.
Ingredients
2 large wild rabbits, roughly 3 lbs each (if using farm-raised, they will be larger)
2 cloves garlic, minced
1 branch fresh rosemary, leaves removed and minced
1 sage leaf, minced
Salt and pepper
Extra-virgin olive oil
2 large yellow onions, coarsely chopped
1 pound portobello mushrooms, cut into 1-inch cubes
4 ounces pancetta, finely diced
1 cup white wine
1 pound tomato puree
1 cup chicken stock, recipe follows
Pinch sugar
Pinch red chili flakes
Chicken or rabbit stock (homemade preferred, quality store-bought is okay)
2 tablespoons tomato paste
Fresh Italian bread (my local bakery makes some delicious stuff!)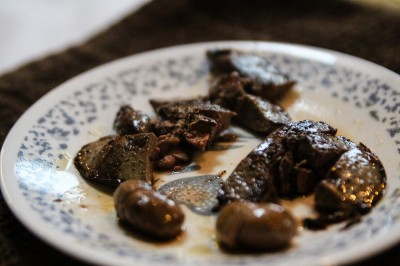 Directions
Cut rabbit into 8 pieces. If buck shot is found, please remove unless you enjoy the "crunch" and are looking to visit your dentist.
Combine the garlic, rosemary, salt, and pepper along with enough olive oil to make a somewhat dry paste. Divide the paste evenly among the 8 pieces and let sit, covered and refrigerated, for 2 hours.
In a Dutch oven or heavy-bottomed stock pot, heat 3 tablespoons olive oil over high heat until nearly smoking. Brush the excess rub from the rabbit pieces and sear each piece on all sides until deep golden-brown. Remove the seared meat to a plate lined with paper towels. Add the onions, mushrooms, and pancetta and cook over high heat until onions are golden-brown and fat has been rendered from pancetta. Drain the excess oil, then add the wine and stir the bottom of the pan with a wooden spoon to dislodge the browned bits. Brown bits equal loads of flavor! Add the tomato puree, chicken stock, sugar, and chili flakes. Bring to a boil. Return the rabbit to the pan. Cook for 20 minutes, then reduce the heat to medium and cook for an hour. Be sure to stir occasionally so the sauce does not burn on the bottom. Uncover and increase heat to medium-high and cook 15 to 20 minutes more or until sauce has reduced and the rabbit is fall-off-the-bone tender. Remove from heat and divide meat evenly among 4 to 6 warmed dinner plates. Top with plenty of sauce and some freshly-chopped parsley, and serve with the buttered and toasted garlic bread.