Baked Spaghetti with Venison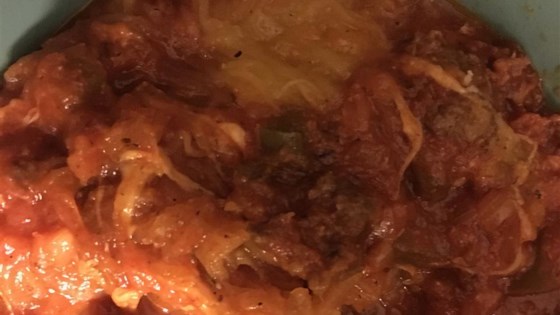 "This recipe is quick and easy. The venison is such a clean taste that mixes well with the plethora of spices. It takes no time at all and taste even better the next day."
Directions
Prep 25 m

Cook 40 m

Ready In 1 h 5 m
Preheat oven to 350 degrees F (175 degrees C). Spray a casserole dish with cooking spray.

Bring a large pot of lightly salted water to a boil. Add spaghetti and cook for 3 to 5 minutes or until al dente; drain.

Meanwhile, heat olive oil in a large skillet over medium-high heat until it begins to smoke. Add venison and cook until well browned, about 5 minutes. Stir in onion and green pepper, continue cooking until softened, about 4 minutes. Add tomato paste and tomato sauce, season with garlic salt, dill, marjoram, and Italian seasoning. Bring to a boil, then reduce heat to medium, and simmer for 5 minutes.

Place drained pasta into prepared casserole dish and pour venison overtop. sprinkle with Mozzarella and Parmesan cheeses. Bake in preheated oven until the cheese is bubbly and browned, about 25 minutes.