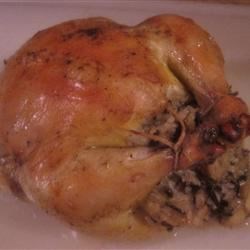 Ingredients
Original recipe makes 4 servings
3 tablespoons butter
2 tablespoons slivered almonds
2 tablespoons chopped onion
1/3 cup uncooked wild rice
1 cup water
1 cube chicken bouillon
1/2 teaspoon salt
2 Cornish game hens
salt to taste
1/4 cup melted butter
Directions
Melt 3 tablespoons butter in a medium saucepan over medium heat. Stir in the almonds, onion, and uncooked wild rice. Saute 5 to 10 minutes. Mix in the water, chicken bouillon cube, and 1/2 teaspoon salt. Bring to a boil. Reduce heat, cover, and cook 45 minutes until rice is tender and easily fluffed with a fork.
Preheat oven to 400 degrees F (200 degrees C).
Season the Cornish game hens inside and out with salt, and stuff with the rice mixture. Place the hens breast side up on a rack in a baking pan. Brush with 1/4 cup melted butter.
Cover the baking pan, and cook the hens 30 minutes in the preheated oven. Uncover, and continue cooking 1 hour, or until the hens are no longer pink and the juices run clear.