ELK SAUSAGE SPAGHETTI WITH GARLIC NOODLES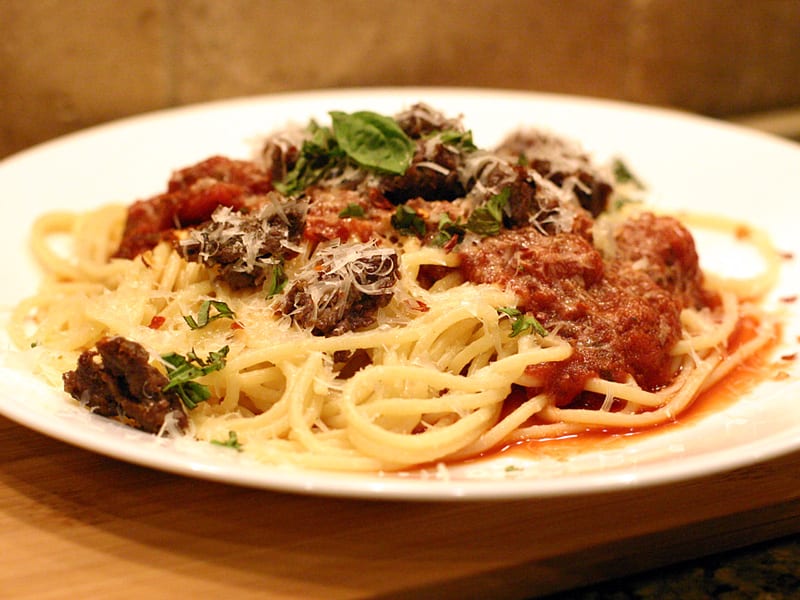 Friday night dinner and a movie called for a great bottle of red and some Italian elk sausage spaghetti with garlic noodles … oh, and the movie of choice – Sherlock Holmes.
INGREDIENTS

1 pound ground elk sausage
24 oz spaghetti sauce (tomato & basil)
Spaghetti noodles
4 or 5 garlic cloves
4 tablespoons butter
Fresh basil
Bottle of Dry Cabernet
DIRECTIONS
1) Add elk sausage to skillet and cook until browned. Remove meat from skillet and set aside.
2) Deglaze the skillet with 1 cup of your favorite dry red wine. Add your favorite jar of tomato sauce to red wine and simmer on low heat.
3) Boil spaghetti noodles, drain and set aside.
4) In the same pan, add 4 tablespoons of butter and chopped garlic. Sauté garlic being sure not to burn. Add noodles to butter and garlic and stir. Remove from heat.
5) Place noodles on plate, add tomato sauce, elk sausage, fresh basil and top with parmesan cheese.