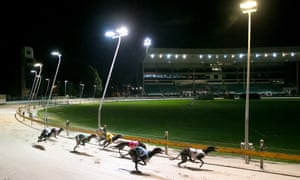 A report recommending greyhounds race on straight tracks against fewer opponents has been welcomed by the NSW racing minister, but it's not clear who would foot the bill for such an overhaul of the industry.
The report, authored by the University of Technology Sydney, made 11 wide-ranging recommendations to improve animal welfare to the sport's governing body Greyhound Racing NSW.
Chief among the changes proposed is the development of purpose-built straight tracks.
The study catalogued injuries sustained by greyhounds during races – from minor to catastrophic – and mapped where on the track they occurred.
It revealed clusters of injuries around bends.
"Approximately 80% of all catastrophic and major injuries were caused by congestion and incidents such as checking, collision and galloping," the report states.
The number of greyhounds in each race should also be reduced from eight to six, it concludes.
The creation of straight tracks may require the purchase of land for development and the running of more short-distance races.
GRNSW says it will consider the UTS report's recommendations, but declined to comment on whether the organisation could afford to implement the proposals.
"Any financial impacts for the eventual implementation of any of the recommendations will be dealt with on a case-by-case basis," a spokesman said on Friday.
GRNSW interim chief executive John Gibbons described it as a "watershed report" that could ensure safer racing and reduced injury rates.
The minister's office said the government would wait for GRNSW to finish considering the report, but looked forward to implementing changes.
"I'm looking forward to working with Morris Iemma and GRNSW to implement these findings through the $30 million we're investing in improvements to race tracks across the state," Toole said.
Greyhound racing in NSW has been marred by animal welfare controversies over the last two years.
Former Premier Mike Baird in July 2016 announced his intention to ban greyhound racing after a special commission of inquiry found there was overwhelming evidence of systemic animal cruelty in the sport, including mass greyhound killings, as well as live baiting.
But the ban was scrapped three months later following an industry-led backlash.