Article credited by Fox News: http://www.foxnews.com
3 hours ago
Border agent killed, partner injured by illegal immigrants using rocks, report says
Republicans renew calls for wall after border agent's death
Illegal immigrants reportedly assaulted two U.S. Border Patrol agents with rocks, killing one and seriously injuring another Sunday near the southern border with Mexico.
Details around the attack remained murky Monday, however, an FBI spokesperson said Rogelio Martinez and his partner were not shot and a National Border Patrol Council official told KTSM the assailants were "undocumented immigrants" who used likely used rocks to bash the agents.
"We strongly believe rocks were what was used," NBPC Vice President Art Del Cueto told KTSM.
#CBP mourns the loss of #USBP Agent Rogelio Martinez who passed away this morning. Our thoughts are with his family, friends and fellow Agents during this difficult time. #HonorFirsthttp://bit.ly/2zio63D 
The FBI had taken over the investigation into the death of Martinez, 36, and the injuring of his partner, who was not identified. The two were patrolling the Big Bend Sector of Texas when the attack occurred.
"They were not fired upon," said Jeanette Harper of the FBI's El Paso office. "There are so many different agencies working together that we need to come together and develop a timeline."
Martinez, who was from El Paso and had worked as a border agent since August 2013, died of injuries sustained while responding to "activity" near Interstate 10 in the Van Horn Station area, according to a news release from U.S. Customs and Border Protection.
He was on Interstate 10 near Mile Marker 151 when the incident occurred, KFOX14reported. At some point, Martinez's partner called for help, saying he and Martinez had both been injured, investigators told KFOX14.
Border Patrol Officer killed at Southern Border, another badly hurt. We will seek out and bring to justice those responsible. We will, and must, build the Wall!
TRUMP'S BORDER WALL: A LOOK AT THE NUMBERS
President Trump pushed the need for his proposed U.S.-Mexico border wall Sunday night following the incident, tweeting: "Border Patrol Officer killed at Southern Border, another badly hurt. We will seek out and bring to justice those responsible. We will, and must, build the Wall!"
Elaine Duke, the acting secretary of the Department of Homeland Security, released a statement Sunday calling Martinez's death a "tragic event."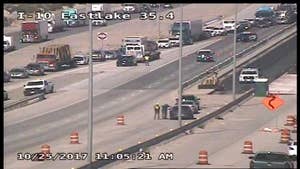 Border Patrol agent shot at while driving off duty
"Earlier this morning, I was notified that Border Patrol Agent Rogelio Martinez died as a result of serious injuries suffered while on patrol in the Big Bend Sector of our southern border in Texas. Agent Martinez was responding to activity while on patrol with another agent, who was also seriously injured," the statement read.
Sen. Ted Cruz, R-Texas, also released a statement calling the attack a "stark reminder of the ongoing threat that an unsecure border poses to the safety of our communities and those charged with defending them."
"Our condolences and prayers go out to the family and friends of Border Patrol Agent Rogelio Martinez, who was killed this morning in the line of duty. We are also praying for the full recovery of his partner, who was also attacked," Cruz said.
FIRST FEMALE BORDER PATROL CHIEF SAYS AGENTS ARE EMPOWERED TO 'ENFORCE THE LAWS' UNDER TRUMP
Ashley Claster @ClasterKFOX_CBS
CBP tells us Agent Martinez' hometown was El Paso. He was 36 and entered on duty with the Border Patrol on 8/12/2013.
Border Patrol records show that Big Bend accounted for about 1 percent of the more than 61,000 apprehensions agents made along the Southwest border between October 2016 and May 2017.
The region's mountains and the Rio Grande make it a difficult area for people to cross illegally into the U.S. from Mexico.
The Border Patrol website lists 38 agents who have died since late 2003, some attacked while working along the border, and other fatalities in traffic accidents. It lists one other agent death in the line of duty this year.
Fox News' Mike Emanuel and The Associated Press contributed to this report.