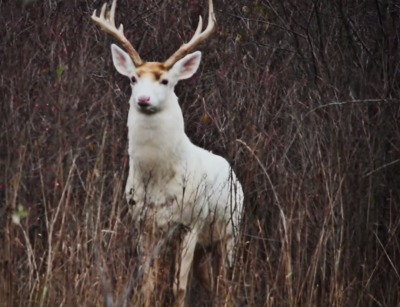 A herd of about 200 white deer still roam the empty US Army depot in Seneca County, New York. The white-tailed deer are not albino, instead their white coloring comes from a set of recessive genes brought on by generations in isolation. For now the abandoned depot is their sanctuary, but town officials from nearby Varick and Romulus are eager to use the land for development. In 2016, the skeleton crew from the US Army Corps of Engineers now maintaining the depot will be leaving—and likely opening up the 7,000-acre parcel to businesses, residential development, and farms.
"We have one of the biggest percentage of tax- exempt land of any township in New York State," Romulus town supervisor David Kaiser told The Post Standard. "We already have a lot of wildlife … Montezuma, the national forest south of us, Sampson State Park, Seneca Lake Park. There's no shortage of land set aside for wildlife in the county."
Development would likely mean the end of the Seneca white deer herd. After decades of living behind the depot's fences, the deer herd is more tame than wild now. The animals originally arrived in Seneca when the herd wandered onto the depot as the Army was constructing a 24-mile fence around its perimeter. Starting in the 1950s, the animals came under the nominal protection of the depot because of their popularity with soldiers stationed there. At first there were only a few white deer, but they quickly multiplied due to inbreeding.
Their white coloration will make the deer more visible to predators once outside of the depot. Advocates claim that if the land was turned over entirely to development, only the regularly-colored deer in the herd will survive the transition. White and albino animals in the wild rarely live to adulthood and it is this fact that makes the Seneca herd unique. Dennis Money, president of Seneca White Deer, Inc, also hopes it will make the deer a popular tourist attraction. Advocates for the deer herd previously approached the state's Department of Environmental Conservation (DEC) to protect the land as a conservation park. The DEC turned them down, although Money took the rejection in stride.
"The DEC runs wildlife refuges," Money told the Standard. "They don't run zoos—and that's what you have when you fence animals in."
Now the focus is on turning the land into an ecotourism center.
"The recreational potential of the former Depot is tremendous," Seneca White Deer stated on its website. "With an existing infrastructure of over 100 miles of roadways and a basically flat or level topography, the Depot is a sleeping giant waiting to be used for passive and some forms of active recreation."
Money is now working to ensure that if development comes to the depot, land will be set aside for the herd.
"The white deer will be maintained,"  Romulus Town Planning Board chairman Tom Bouchard told the Finger Lake Times. "They must be for they will soon become the visual living legacy to the memory of the depot. Yes, the white deer will survive and if managed properly, will continue to thrive and be cared for in a manner that will honor their heritage."