Shark Attacks 7-year-old Boy in Louisiana Lake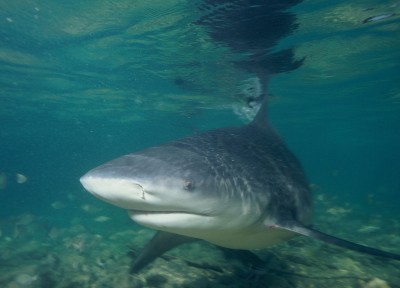 In most cases, sharks are rarely expected in a lake, unless you plan on visiting Lake Pontchartrain in southeastern Louisiana. Those who frequent the brackish estuary know that during certain times of the year, Lake Pontchartrain hosts a stealthy predator underneath its waters: the bull shark. According to The Times-Picayne, a seven-year-old boy from Lakeview became the victim of the lake's first recorded shark attack when he was bit last Friday while swimming near Southshore Harbor.
The lake is popular with boaters and anglers, but experts say the estuary is also favored by female bull sharks, which swim in to give birth and then leave. The young bull shark pups then use the lake as a nursery before moving out to deeper waters, but occasionally will venture further inland as well. Experts say that although specimens over six feet in length have been documented, there have been no attacks until now. Seven-year-old Trent Trentacosta was on a sailing trip with his family last week when he decided to take a dip in the water.
"The kids were bunched up together playing, and Trent just started screaming," said Shelly Trentacosta, his mother. "We started swimming to him, and I didn't know what was going on. I grabbed his leg, and there was a lot of blood."
She initially thought that her son had scrapped his leg against something, but doctors recognized the tell-tale mark of a shark bite. The boy later told his family that he felt something charge at him in the water.
"Without a doubt, it's a bull shark — probably around 5 feet," said Mitchell Chevalier, an angler who tags sharks for the University of Louisiana and the National Oceanic and Atmospheric Administration.
While some boaters may not be aware of the shark presence in Lake Pontchartrain, local anglers certainly are. Fishermen help researchers by attaching a small transmitter to the sharks they release, which in turn are monitored by University of Louisiana's Martin O'Connell.
"The biggest I've ever seen was about 6 feet long," O'Connell told WGNO.
Most of the sharks stick to the salty north shore of the lake, but the fish have a habit of wandering. Not long after Friday's attack, Chevalier caught two 3 to 4-foot sharks near the same area where Trentacosta was bit. O'Connell says that as the juveniles grow older, they may eventually swim to other lakes and rivers.
"You may find one on the Tchefuncte," he said. "I know they've been found up the Amite River.  They've been found in Lake Maurepas. They've definitely been found past Manchac."
That is not good news, as bull sharks are best known for their aggressiveness. Although bull sharks are not considered a true freshwater species, the fish can survive in freshwater environments, which brings them more into conflicts with humans. Luckily, Lake Pontchartrain's first shark attack will not be a fatal one. Doctors expect Trent Trentacosta to make a full recovery, although he will not likely be swimming in this particular lake again anytime soon.