Danish police have identified a headless female torso found in the Copenhagen waterside as that of Swedish journalist Kim Wall, who police believe was killed on a homemade submarine.
Speaking at a press conference on Wednesday morning, Copenhagen police's vice-president, Jens Møller, also said that DNA taken from a hairbrush and toothbrush belonging to Wall had matched that of blood found on the submarine.
He said metal weights had been attached to the body to prevent it from floating.
"Damage seems to have been done to the torso in an attempt to ensure that air and gases escape and the body won't drift to the surface," Møller said at the press conference.
Peter Madsen, a Danish inventor, was charged with manslaughter last week. He told a court hearing this week that Wall had died in an accident and that he had "buried" her at sea.
On Monday, a cyclist passing the water's edge south-west of the island of Amager discovered a torso missing the head, arms and legs.
On Wednesday morning, police confirmed a "DNA match between torso and Kim Wall".
Wall's mother reacted to Wednesday's announcement with a message posted on Facebook. "We cannot see the end of the disaster yet, and a lot of questions are still to be answered," Ingrid Wall wrote.
"The tragedy has hit not only us and other families, but friends and colleagues all over the world. During the horrendous days since Kim disappeared, we have received countless evidence of how loved and appreciated she has been, as a human and friend as well as a professional journalist. From all corners of the world comes evidence of Kim's ability to be a person who makes a difference."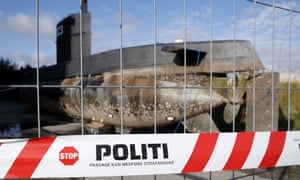 On Wednesday, local media reported that Danish police said they would look into whether unresolved past cases could be connected with Wall's case. In 1987, the torso of a Japanese tourist was found in the waters of Copenhagen harbour.
Wall was last seen on Madsen's vessel by several people in waters off Copenhagen on the evening of 10 August. Her boyfriend reported her missing in the early hours of Friday.
The submarine was later also reported missing, but rescue crews located it shortly after 10am on 11 August in Køge Bay, about 30 miles (50km) south of the Danish capital.
At about 11am, Madsen jumped into the water after the submarine started to sink, telling personnel on the boat that rescued him that there had been a problem with the ballast tank and something had gone wrong when he tried to repair it.
Danish and Swedish maritime authorities used divers, sonar and helicopters in the search for the body in Køge Bay, south of the city, and in the Øresund Strait between the two countries.
Police refloated the Nautilus and towed it into harbour for investigation, later suggesting that Madsen may have sunk the boat on purpose to hide evidence.
Madsen, an entrepreneur, artist, submarine builder and aerospace engineer, appeared before a judge on 12 August for preliminary questioning. The case is not open to the public to protect further investigations, police said.
Originally from Sweden, Wall held degrees from Columbia University and the London School of Economics, and had written on issues ranging from social justice to foreign policy for publications including the Guardian, the New York Times, Foreign Policy and Time.