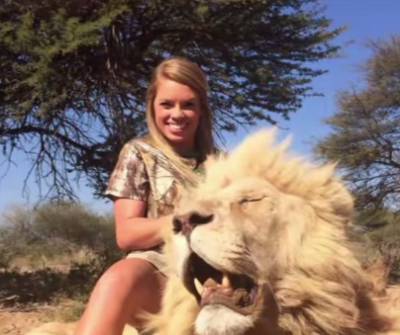 Kendall Jones, 19, ignited a firestorm of debate when she posted pictures from her African hunting safari on Facebook, prompting criticism and even death threats. The photographs show Jones, a Texas Tech cheerleader, with various animals, including Africa's "Big Five" species: elephant, lion, white rhino, water buffalo, and leopard. According to Reuters, Facebook removed the pictures from the site last week due to what the company regarded as policy violations.
"We remove reported content that promotes poaching of endangered species, the sale of animals for organized fight or content that includes extreme acts of animal abuse," Facebook stated, although it did not comment further.
Jones legally harvested many of the animals over a span of several weeks in Zimbabwe and South Africa under the guidance of Comre Safaris, a South African safari service. Jones told The Cleburne Times-Review that several of the animals killed during the hunt were nuisance animals that were a danger to local residents and livestock.
"There are many parts of Zimbabwe where there in an abundant population of leopard that wreak havoc on the livestock of the farmers in the village," Jones said. "Instead of the villagers killing the leopards to prevent livestock damage, permits are sold to hunters to do this for them."
You can see some of the images in the video below:
Sportsmen's organizations such as Safari Club International (SCI) assert that hunters contribute millions of dollars to the conservation of game species and the preservation of their habitats. In this way, hunters provide the resources that local authorities can use to fight against poachers, as well as more effectively manage wildlife.
"First and foremost, it's imperative to make mention that all of Kendall's hunts in Zimbabwe and South Africa were 100% legal with proper tags and licenses awarded on a pre-approved quota by the countries [sic] officials and wildlife department," stated Jones' supporters in a press release last week. "Secondly, the tags, licenses, and fees purchased in addition to the services provided by local trackers, skinners, and assistants totaled over $160,000 USD, not including travel and/or production costs. In Zimbabwe, 70% of the country's population is classified as poor or extremely poor. This money can provide a great deal of stimulus for the local economies in addition to the estimated $200 million annually of which hunters contribute to the overall African economy. In the most rural areas, where many of these hunts take place, a majority of the people are unemployed and depend on bartering as a way of living. We're very proud of Kendall and Cody [Jones] in not only helping to conserve these species for future generations, but also for helping contribute both money and jobs to an extremely poor area of Africa."
In addition, the photo at the center of the controversy—Jones standing behind an endangered white rhinoceros—was not a hunt in the traditional sense. Jones said she was helping a team of veterinarians tranquilize the animal to treat it for a leg injury. Such non-fatal "harvests" are commonly referred to as "green hunts."
Yet that did not stop the flood of negative comments from hitting Jones' Facebook page.
"She slaughters magnificent creatures for fun—she's a horrible person," wrote one commentor.
"You somehow combine everything what the world hates about the USA in one person," replied another.
A petition has garnered 130,000 signatures to remove Jones from Facebook. But the 19-year-old does have a large number of supporters, who say that images taken from a legal hunt are no excuse for cyber-bullying or death threats.
"During these last 72 hours, I have been overwhelmed by the immense amount of support from the groups and individuals within our hunting community and abroad. I'm humbled by the words of encouragement from men and women within the hunting community who have worked tirelessly to protect and promote hunting through conservation in Africa and all over the world," Jones wrote on Facebook.