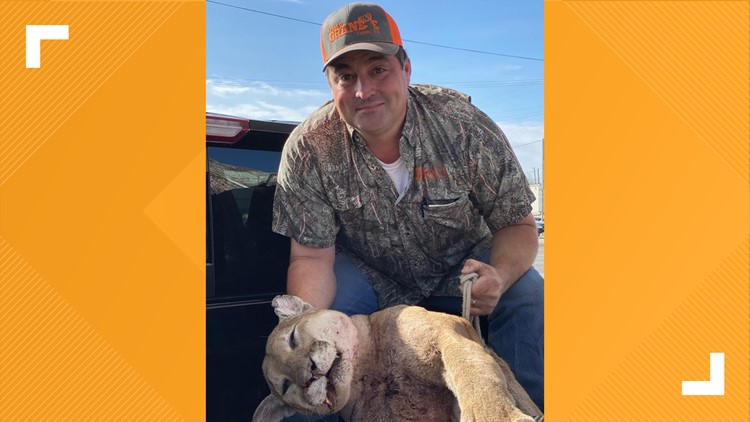 A hunter in Texas shot and killed a mountain lion on a ranch as it approached a feeder, media outlets report.
The 143-pound cougar was killed Saturday by a lease hunter on the ranch in Freer, Texas, a town about 120 miles south of San Antonio, KIII reported. The hunter stopped to show off the kill at Muy Grande, a convenience store and sporting goods resource that hosts a well-known deer hunting competition.
Muy Grande shared a picture of the mountain lion with business owner Kenneth Sharber on Facebook.
"This little kitty was taken outside of Freer (on Saturday)," according to the Facebook post. "A lease hunter popped him headed toward (a) feeder," the post read.
"It's been 15 years since someone has brought in a mountain lion like that," Sharber told KRIS.
Mountain lions are considered a "non-game species" in Texas, according to Texas Parks and Wildlife. That means a hunting license is required to kill the animal, but there aren't closed seasons or possession limits.
The elusive animal seems to be growing its territory in Texas, state wildlife officials say.
"Sighting and kill reports indicate that Mountain Lions now occur in more counties than they did 10 years ago and appear to be expanding their range into central Texas," according to the Texas Parks and Wildlife website.
Last year, a hunter killed a 200-pound mountain lion in Palo Pinto County, just about 65 miles west of Fort Worth, the Forth Worth Star-Telegram reported.
Credits to Fort Worth Star-Telegram