DALLAS POLICE ARE RESPONDING TO A POSSIBLE ACTIVE SHOOTER SITUATION AT AN OFFICE BUILDING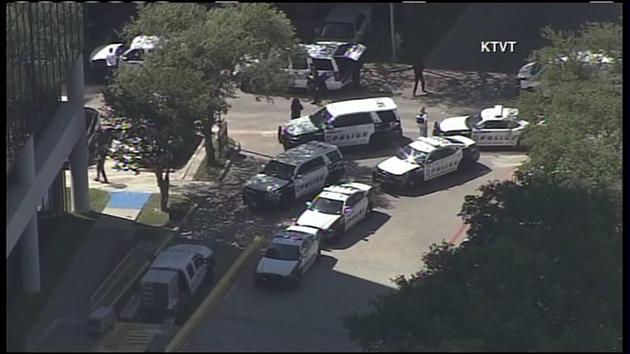 DALLAS, Texas (KTRK) —
Dallas police said officers are responding Monday to reports of a person with a gun at an office building in the north of the city.
Police provided no other details, including whether any shots were fired or any injuries reported in 911 calls Monday morning.
Television footage showed a heavy police response, including a SWAT team, at the multi-story office building along an interstate. A broken window can be seen on one of the upper floors of the mirrored tower.
Dallas Fire-Rescue said they dispatched three rescue units to the scene. A Dallas Fire-Rescue spokesman could not confirm whether there were any fatalities.
Hannah Greenhaw was among the workers evacuated safely from the offices near a multi-level highway interchange known as the High Five.
Greenhaw told KXAS-TV that people from an office across the hall came over to warn them to lock the doors because there had been reports of an active shooter. Everyone in her office hurried to a corner in the back and turned out the lights, she said.
Armed tactical police officers then arrived, entered her office and told the workers to put their hands up, according to Greenhaw. Officers helped evacuate everyone from the building, she said, with some people allowed to use elevators.
"There was a few of us who couldn't actually walk down 10 flights of stairs," Greenhaw said.