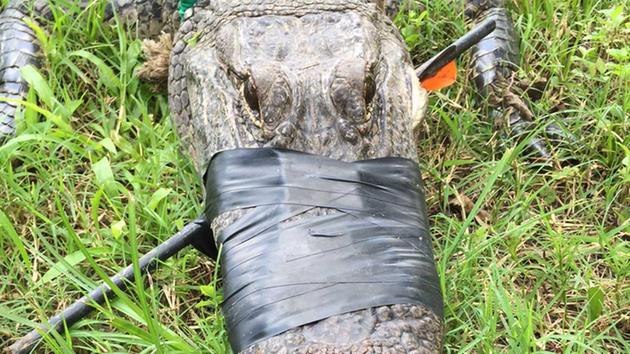 MISSOURI CITY, Texas —
A family in Fort Bend County was stunned, not only to find a gator in the back yard of their home, but also that it had an arrow through its head.
"I mean, they've made it home," said homeowner Rita Kolb. "I really don't want them here at all."
Gator Chris, a trained and licensed alligator nuisance catcher, was able to lasso the gator to the edge of the pond it was in. It was then, we were able to see just how badly gator was injured.
"Into here and this is bone. All this is puffed out. All of this is infected," said Gator Chris. "We're in an area where you should not be hunting them like this anyway. Illegal shot, one, and illegal equipment two and the alligator pays the price."
Gator Chris was able to load the alligator into his truck and haul him off to a nearby veterinarian who was on standby to look at the alligator.
"He's going to be A-OK," Gator Chris said.
But when the alligator finally made it to the vet, he died.
"Just the stress of the capture itself is enough for them to die sometimes," said Gator Chris, while holding another alligator in his hands.
Gator Chris said that smaller gator was rescued and found to be shot in one eye by a pellet gun.
After the vet checked out the gator, he was released to Gator Chris who said he was going to take it to an alligator rehab farm before it would be released into the wild again.
Gator Chris said in the past two weeks, he's rescued more than a dozen alligators in the Houston area.
He said if you come across one near your home, don't panic. He said leave it alone and do not feed any alligator. He said if the alligator comes to you without baiting it, then it will need to be removed from your area.