Turkey's ongoing military assault in Syria has left more than 100 Kurdish forces dead, President Recep Tayyip Erdoğan claimed Thursday morning, a day after his troops launched airstrikes and unleashed artillery shelling on Syrian towns and villages along its border.
Information about the rising death toll came as Turkey's state-run news agency said Turkey-allied Syrian opposition fighters have "cleared of terror" two villages across the border in Syria — meaning there are no more Syrian Kurdish fighters in those villages. Turkey has long threatened to attack the Kurdish fighters whom Ankara considers terrorists allied with a Kurdish insurgency in Turkey.
Erdogan told party officials Thursday that 109 "terrorists" have been killed so far in Operation Peace Spring — a reference to the U.S.-allied Syrian Kurdish fighters. He did not elaborate, and the reports on the ground, according to the Associated Press, did not indicate anything remotely close to such a large number of casualties.
North of the border in Turkey, officials say a 9-month-old baby and a Turkish civil servant were killed Thursday and 46 others were wounded after mortars were fired from Kurdish outposts in Syria.
The Turkish leader is also warning the European Union Thursday not to call Ankara's incursion into Syria an "invasion," and renewed his threat of "opening the gates" and letting Syrian refugees flood Europe.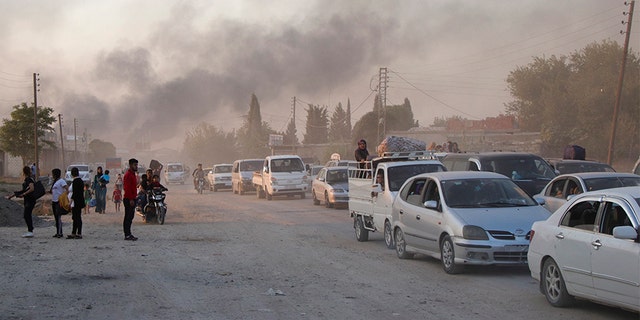 Meanwhile, the Britain-based Syrian Observatory for Human Rights said Turkish commandos entered the village of Beir Asheq, near the town of Tal Abyad on Thursday morning.
Turkish forces began a ground offensive against Kurdish fighters in northern Syria on Wednesday under the cover of airstrikes and artillery shelling. The Turkish Defense Ministry said its jets and artillery struck 181 targets east of the Euphrates River since the incursion started — a mission aimed at creating a "safe zone" that would push Kurdish militia away from its border and eventually allow the repatriation of up to 2 million Syrian refugees.
The Kurds, who have been America's only allies in Syria in the fight against ISIS, stopped all their operations Thursday against the militants in order to focus on the advancing Turkish troops, Kurdish and U.S. officials said.
"The United States does not endorse this attack and has made it clear to Turkey that this operation is a bad idea," Trump said in a statement released by the White House. "Turkey has committed to protecting civilians, protecting religious minorities, including Christians, and ensuring no humanitarian crisis takes place—and we will hold them to this commitment."
Trump later told reporters that he would employ "far more than sanctions" against Turkey if the country fails to act in the most "humane way" possible and that he hoped Erdogan would act rationally.
When asked what would happen if Erdogan wiped out the Kurds, Trump threatened to "wipe out" Turkey's economy, saying he'd done it once before.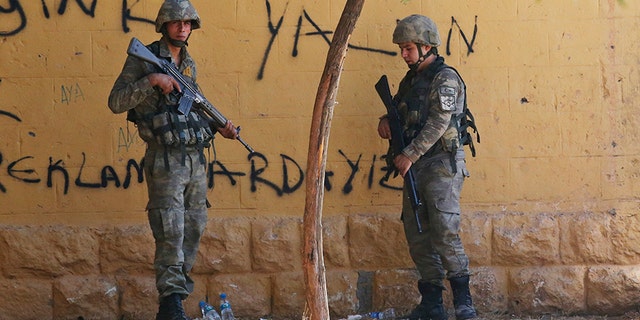 But Sen. Lindsay Graham, R-S.C, warned Wednesday that if Trump follows through on his proposed troop withdrawal from Syria, it would be one of the biggest follies of his presidency and cause ISIS to reemerge in the region.
"I hope President Trump's right," Graham told 'Fox & Friends' on Wednesday. "I hope we can turn the fight against ISIS over to Turkey. I hope that Turkey, when they go into Syria, they won't slaughter the Kurds… If [Trump] follows through with this, it'd be the biggest mistake of his presidency."
A member of U.S. Special Forces serving alongside the Kurdish-led Syrian Democratic Forces in Syria also told Fox News Wednesday they are witnessing Turkish atrocities on the frontlines.
"I am ashamed for the first time in my career," said the distraught soldier, who has been involved in the training of indigenous forces on multiple continents.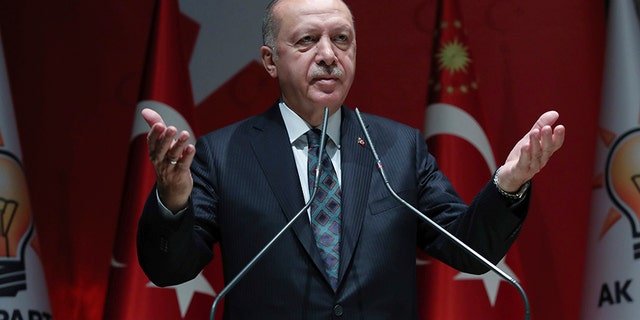 The hardened service member is among the 1,000 or so U.S. troops who remain in Syria.
"Turkey is not doing what it agreed to. It's horrible," the military source on the ground said. "We met every single security agreement. The Kurds met every single agreement [with the Turks]. There was no threat to the Turks — none — from this side of the border."
Troops on the ground in Syria and their commanders were "surprised" by Trump's withdrawal decision Sunday night.
Of the president's decision, the source said: "He doesn't understand the problem. He doesn't understand the repercussions of this. Erdogan is an Islamist, not a level-headed actor."
Credit to Fox News