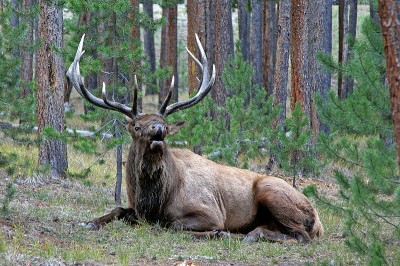 For the past five decades chronic wasting disease (CWD) has spread like a cancer through the nation's cervid population. Without any form of effective vaccine or cure, the disease poses a serious problem for the country's elk, moose, and deer. According to the Missouri Department of Conservation, CWD has been positively identified in at least 22 states and several Canadian provinces. For a long time many biologists were concerned that the disease, which purportedly boasts a 100 percent fatality rate once contracted, could wipe out vulnerable elk herds. Recently, however, a 10-year study published on the online journal Ecosphere found that elk populations may prove more resilient to the disease than previously thought.
Based on the observation of 39 infected female elk calves captured from the National Elk Refuge in Jackson, Wyoming, researchers found that genes played a large part in the animals' susceptibility to CWD. Some elk are inherently more resilient to CWD prions, leading to a greater amount of time between initial exposure to the prions and the onset of disease. As infected animals die out and elk better adapted to fight the disease survive and reproduce, researchers estimate that in a few decades those genes will become dominant in elk populations, drastically reducing the effect of CWD.
"This study model essentially represents the worst-case scenario that would face feedground elk," Dr. Terry Kreeger, one of the study's authors, told the Wyoming Game and Fish Department. "We predict a genetic shift over several decades favoring genes that prolong the incubation time of CWD resulting in elk populations that are able to persist in the face of the disease."
What that means is that in the long term, CWD may not have the devastating, species-wide effect that many biologists feared it would. In fact, researchers found that if the CWD-resistant gene does become dominant in elk, the disease will not even keep elk from becoming overpopulated.
"The model showed that in an environment without [hunting] harvest, CWD was not limiting enough to keep this population from rising to higher than desired numbers (i.e., three times the proposed population objective of 1,900 elk)," the study states.
The study represents a widespread, worst case scenario of CWD transmission. Even in that case, researchers predict that hunting seasons will have to be kept open to help manage elk populations. This is good news for both hunters and the state officials who safeguard the animals in their care.
"It helps to know that based on this research, if CWD should become established on feedgrounds, we won't see a devastating effect on populations as many have feared," said Scott Edberg, Deputy Chief of the Wyoming Game and Fish Wildlife Division.