Article credited to The Guardian: http://www.theguardian.com
Sessions orders review of gun background check system after Texas church shooting
US attorney general gives FBI and ATF 60 days to investigate whether military and other agencies are failing to provide information to database
Jeff Sessions said the Nics database was 'critically important to protecting the American public'. Photograph: Joshua Roberts/Reuters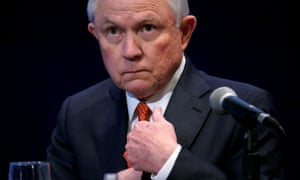 Three weeks after a gunman used an assault rifle purchased despite a court-martial conviction to kill 25 people in a church in Sutherland Springs, Texas, the US attorney general, Jeff Sessions, has ordered a review of the US federal background check system for gun purchases.
In a memo released on Wednesday, Sessions gave the FBI and Bureau of Alcohol, Tobacco, Firearms and Explosives (ATF) 60 days to investigate and report on whether the US military and other agencies are failing to report information to the National Instant Criminal Background Check System (Nics).
Sessions also ordered a report on how often law enforcement agencies investigate and prosecute people for lying on gun-purchase applications, and a closer look at the format of the application itself.
Sessions said the Nics database "is critically important to protecting the American public from firearms-related violence". But he warned the system is "only as reliable and robust as the information that federal, state, local, and tribal government entities make available to it".
The defense department has said it will conduct a review of its own practices, after the US air force discovered that it had not reported the court-martial conviction on two charges of domestic assault of the Texas gunman, who left the air force in 2014 with a bad conduct discharge.
That air force failure allowed the gunman to legally purchase four guns, including a Ruger AR rifle with a 30-round magazine that was used in the 6 November shooting. Sessions said the lapse in notification to the background check system was "alarming".
Failures in the system were already known. A 2015 report from the defense department's inspector general found the navy, air force and US Marine Corps had made many errors in reporting criminal record conviction records to the FBI: 30% of the records that should have been reported were missing.
Advertisement
Contacted by the Guardian earlier this month, spokespeople for the air force, the defense department and the FBI were not able to clarify whether and to what extent military domestic violence records were being submitted to the background check system.
The Arizona senator Jeff Flake described that failure as an "egregious oversight" and said only one domestic violence record had been submitted by the armed services to Nics since 2007.
"Unless we're to assume there's been only been one case of domestic violence in the military over that point of time, we have a problem," said Flake.
Before Flake spoke, a defense department spokesman speaking to the Guardian queried whether a chart tweeted by Flake showed "a full and accurate picture of the Department of Defense total reporting on these issues".
Nics has repeatedly come under scrutiny for faulty reporting, missing records and bad procedures, including after the 2007 Virginia Tech shooting and an attack by a white supremacist on a black church in Charleston, South Carolina, in 2015.
Last week, a bipartisan group of senators introduced legislation which, although it would not require a background check on every single gun sale, would add measures to ensure that states and federal agencies enter the proper records into the system.
"For years, agencies and states haven't complied with the law, failing to upload these critical records without consequence," John Cornyn, a Texas Republican co-sponsoring the bill, said on Thursday. "This bill aims to help fix what's become a nationwide, systemic problem so we can better prevent criminals and domestic abusers from obtaining firearms.
Chris Murphy of Connecticut, whose gun control advocacy has been shaped by the 2012 elementary school shooting in Newtown, said: "It's no secret that I believe much more needs to be done. But this bill will make sure that thousands of dangerous people are prevented from buying guns."