Simple camel with allspice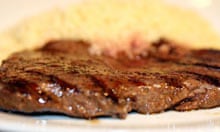 Camel is, perhaps surprisingly, quite a sweet meat, and we think that allspice enhances the flavour beautifully. You do not need to have huge steaks, as camel is quite rich and dense. The suggested portion size of 175g (6oz) will usually match even the largest of appetites.
Ingredients
Serves 4
4 thinly sliced camel rump steaks, about 175g (6oz) each
1-2 teaspoons ground allspice
Grated zest and juice of ½ large lemon
2 tablespoons extra virgin olive oil
Salt and freshly milled black pepper
Method
Put the steaks in a large bowl or glass dish, and season with salt and black pepper. Sprinkle over the allspice, and add the lemon zest and juice and extra virgin olive oil. Mix well, cover and leave to marinate in the refrigerator for 2 hours.
Heat the gill or barbecue until hot, and sear the steaks for 4-6 minutes on each side. Transfer to a warm plate and leave to rest for 5 minutes.
Ideally, serve on a bed of couscous, in keeping with the style of the dish.