Editor's note: This recipe is the first in a series of several provided by Tyler Viars, a dedicated "forest to fork" hunter and professional chef. Read on to learn the culinary secrets of one of America's top home cooks—and get excited for deer season.
The buck in the picture above was bitten by my Hoyt Spyder on November 12, 2013. Now I get to reap the benefits of this beautiful animal through a process I like to call "forest to fork," with the end result being a delicious bacon-wrapped backstrap with charred serrano-scallion chimichurri. How's that for "organic?"
Serves 6 to 8
Prep time: 90 minutes
Cook time: 20 to 25 minutes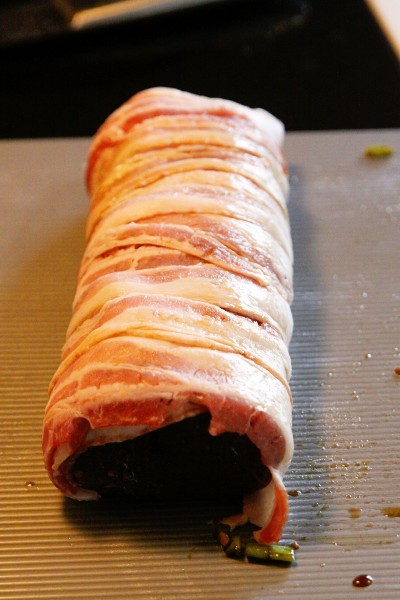 Ingredients
Venison
2 pounds whole venison backstrap
1 pound homemade or locally-made bacon, sliced thin
2 tablespoons bacon fat (bacon fat when cooking bacon! Duh! Who would have thought?)
Venison marinade
1/2-cup olive oil
1/3-cup soy sauce
4 scallions, washed and cut in half
2 large cloves garlic
1/4-cup fresh lime juice
1/2-teaspoon red pepper flakes
3/4-teaspoon whole toasted cumin seed ground
3 tablespoons dark brown sugar
Chimichurri
1/2-cup extra virgin olive oil
kosher salt and freshly cracked black pepper
2 bunches of (roughly 8 to 10) fresh scallions
1 serrano seeded (use half if you like less heat)
1/4- to 1/2-cup sherry or red wine vinegar
3/4-teaspoon whole toasted ground cumin (toast whole seeds and grind them)
2 tablespoons finely minced fresh chives
2 tablespoons finely minced fresh parsley
2 tablespoons finely minced shallots
1 teaspoon finely minced garlic
Directions
Put on your camo apron.
Set one side of a grill to hot and the other to medium-low. Alternatively, heat stovetop to medium heat and preheat oven to 350 degrees. Place a cast-iron skillet or griddle over the heat.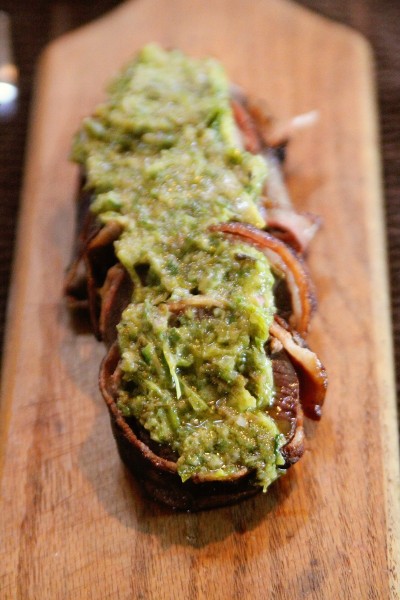 Add the oil, soy sauce, scallions, garlic, lime juice, red pepper, cumin, and brown sugar to a blender or food processor and puree. Put pieces of skirt steak in a large, heavy-duty zip-top bag and pour in marinade. Seal bag, removing as much air as possible. Allow the backstrap to marinate for a minimum of 1 hour in refrigerator.
Meanwhile, drizzle the scallions and serrano with 1 tablespoon of the olive oil and season with kosher salt and pepper. Over medium-high heat, grill until charred and wilted, flipping as needed. Chop the scallions really well and add to a bowl with the remaining olive oil. Finely mince the serrano. Fold in the sherry vinegar, chives, parsley, shallots, and garlic. Set aside. (A food processor may be used to do this as well. However, I like a more rustic and broken chimichurri. It's just personal preference.)
Remove meat and marinade from the refrigerator. On a sheet tray or cutting board, vertically lay down the bacon, with each piece slightly overlapping. Remove the venison from the marinade and place the meat on the bacon, leaving approximately 2 inches of bacon overhanging. Wrap the overhanging bacon around the venison and continue rolling the meat away from you as if you were creating a bacon-backstrap burrito. Yum. If necessary, use toothpicks to keep held together. Put 2 tablespoons bacon fat in heated cast iron. Place the wrapped venison, seam side down, on the medium-heated skillet. Do not touch the venison.
Let the bacon render and build a crust, leaving it on each side for roughly 3 to 4 minutes. Brown the bacon on all sides until deep-golden. Place the venison on the cooler side of the grill (lid closed) or in the oven and bake 6 to 8 minutes, or until an instant-read thermometer reads 120 to 125 for medium rare. Pull the meat and allow to rest under tented foil for no less than 10 minutes. Slice the meat into 3/4-inch pieces and top with chimichurri. Now enjoy! Hunt, share, and, as always, keep Cookin' in Camo.
Notes
Don't be a hero! Get yourself a meat thermometer.
Toast and grind your whole spices. The resulting flavor is much deeper. Some store-bought ground spices might have been bottled during the Reagan administration.
If using dry herbs, use half the amount.
Letting the meat rest allows the juices to redistribute back into the meat. Slice too soon and the juice runs onto the cutting board. Dry meat is not good.
Images courtesy Tyler Viars