Recipe Credited to OutdoorHub: http://www.outdoorhub.com
Knuckle Suckin' Venison Chili
Krissie Mason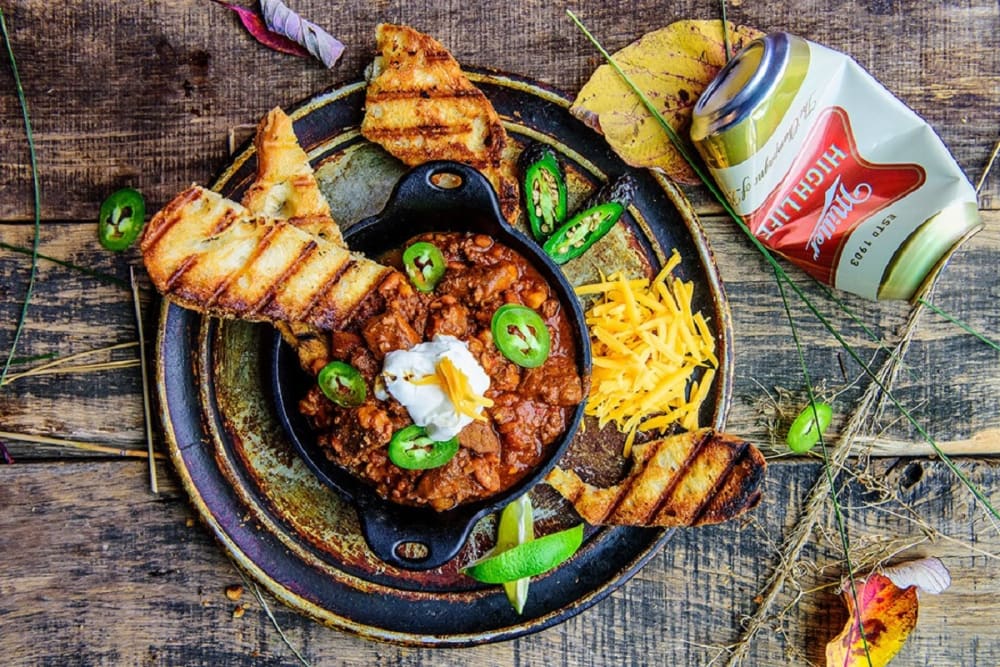 Some of you lucky souls have already harvested and processed your 2017 deer. My first chance at tagging a whitetail comes in a week when I head to Big Horn Outfitters  in Wyoming. It will be my first mountain terrain hunt. I'm both anxious and excited as this could be my first whitetail.
To up my chances I'm taking along my new "venison cuisine machine," a.k.a. my Weatherby Camilla Mark V Deluxe RC outfitted with Leupold optics; a VX5HD with a custom dial. And, Sitka's high-performance Subalpine women's gear system will provide utmost flexibility, and comfort.
While awaiting my departure, I'm cleaning out the last pounds of stew meat and burger from my freezer. This weekend I made a comforting chili that tastes as good as it looks. All you need is a couple slices of crusty griddled bread and a pair of paws to dig in.
This right here is some knuckle sucking good vittles worthy of mountain deer camp, or the 2018 Super Bowl coming to icy Minnesota. Crack a can of Miller High Life and you are golden, baby!
Ingredients:
2 lbs. ground venison
½ lb venison stew meat
1 yellow onion, finely chopped
½ diced red pepper
2 tablespoons minced garlic
1 chipotle pepper, dried
2 tablespoons chili powder
2 teaspoons cumin
2 teaspoons paprika
1 teaspoon oregano
2 teaspoons salt
½ cup hominy
1 cup beef stock
¾ cup red wine
1 ¾ cup tomato sauce
1 14.5 oz. can fire-roasted diced tomatoes with juice
1 15 oz. can pinto beans with liquid
1 loaf rustic bread-sliced
METHOD:
Red bell pepper, onion, and garlic are essential.
-Heat oil in large Dutch oven pot over medium high. Add onions, garlic and red pepper and cook for about 5 minutes until softened, stirring as needed.  Mix in garlic and cook for another minute.
Seasoned venison stew meat ready to be browned.
-Add stew meat to pot and brown. Add ground venison to pot breaking up into chunks. Brown beef for approximately 12 to 15 minutes or until no longer pink.
Spices clockwise from top: Chili powder, oregano, paprika, cumin, and a dried, whole smoky chipotle pepper in the middle.
-Add chili powder, cumin, paprika, oregano and salt  to venison mixture and continue to cook, stirring constantly, until spices begin to bloom and become fragrant, about 2 minutes.
Hominy bolsters my chili with a special "corny" heartiness and also acts as a thickener. Hominy explained.
-To pot, add hominy, red wine, beef stock, tomato sauce, diced tomatoes, and beans with liquid. Bring to a boil and then put lid on Dutch oven and transfer to a 275 F degree oven for approximately 2 hours. Remove, uncover and continue to simmer over low flame until sauce is thickened.
Bringing all the ingredients together in the pot.
-Serve with griddle grilled homemade bread, sharp cheddar cheese, jalapenos, sour cream and a squish of lime. No silverware required!
No utensil require! Used the griddled homemade bread to scoop the wild, meaty goodness!
A NOTE ON MAKING HOMEMADE BREAD:
Fresh out of my oven, the crusty round loaf I used in this recipe. Before baking I dust with flour and slash the top.
Don't let baking bread scare you off. There are two super simple, well-known, no-kneading required recipes that I use all the time for stews, soups, and chili.
The quality of the finished product, along with the satisfaction it brings to have baked a beautiful crusty loaf of bread with a tender and moist inner crumb is really rewarding. You look at it and go, "Holy moly! I just made that gorgeous loaf of bread completely from scratch!"
Down side is, once your family tastes it spread with the goodness of  warm melty butter, they will demand this bread over any store bought imposter! The first recipe is called "Bread in 5" and the second is "No-Knead Bread" .
Ready to slice a loaf on the Chef's Choice Professional 665 Slicer.
Need a good slicer that isn't the size of a small lawn tractor? I'll go on the record to say my Chef's Choice Electric 665 food slicer is a masterpiece of form and function and fits in my cupboard! Handsomely styled, it is a rugged, commercial quality appliance. It has die cast aluminum construction and excellent stability and rigidity that allows for accurate slicing.
Carving any thickness is made easy. From one inch to deli thin.
After my beautiful loaf of crusty homemade bread cooled I couldn't wait to get it on the large-capacity, cantilevered food carriage of the Chef's Choice slicer. And I wasn't disappointed. The 665's powerful, cool-running, high-torque motor and high-quality multipurpose stainless-steel serrated blade provided continuous, non-stop slicing, and made perfectly sliced bread of any thickness a breeze.
Sliced bread ready for griddle grilling.