Cookin' in Camo: Momma V's Cincinnati Style Chili-spaghetti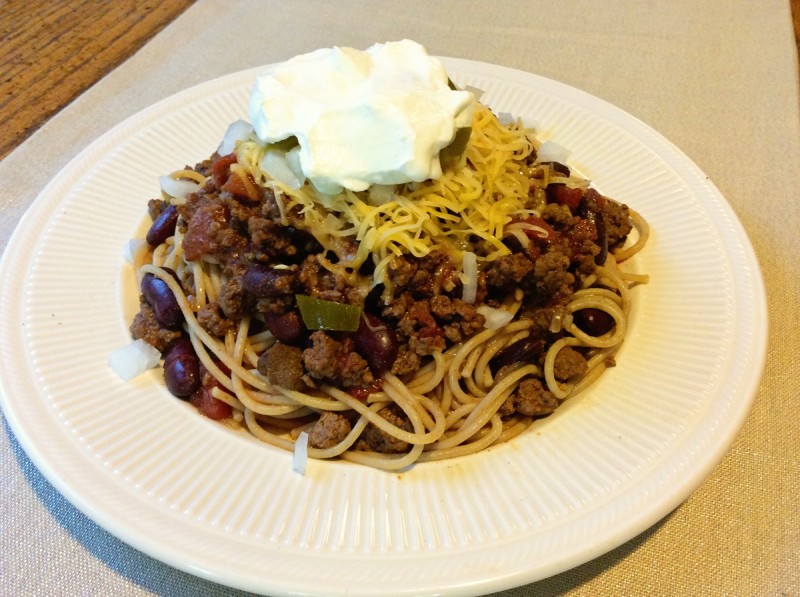 This week's recipe is a shout-out to my brother, Luke. It is tradition in our house to enjoy your favorite meal on your birthday, and Luke's was two weeks ago. Growing up in the Cincinnati area, chili-spaghetti has always been a staple in our house. As a matter of fact, the night before my mother went into labor with Luke, she ate chili-spaghetti! Including some personally-harvested venison in this dish will only make it more mouthwatering.
Serves: 8 to 10 in large portions
Prep time: 30 minutes
Total time: 3 hours
Ingredients
3 pounds boneless venison shoulder ground to a medium grind
2 tablespoons bacon fat
2 15-ounce cans spicy chili beans rinsed and drained
1 15-ounce can black beans rinsed and drained
1 28-ounce can tomato puree
1 28-ounce cans crushed tomatoes
2 cups vegetable juice
1/4- up red wine vinegar
2/3-cup sugar
3 large sweet onions cut into 1/4-inch dices (reserve one for garnish)
4 cloves minced garlic
3 tablespoons chili powder
1 tablespoon ancho chili powder
2 teaspoons toasted and ground cumin
2 teaspoons ground cinnamon
2 tablespoons kosher salt
2 teaspoons fresh cracked black pepper
2 cups fresh grated cheddar cheese
1/2-cup pickled jalapeno rings
2 pounds dried spaghetti noodles
Directions
Although I love wine, it shall stay corked for this dish. Nothing pairs better with chili-spaghetti than a quality craft wheat beer. If you are like me, a frosty mug is always ready in the freezer. Get pouring, and let's get cooking.
Preheat a large heavy-bottom stockpot over medium-high heat. Once heated, add the bacon fat and 1/4 of the meat. Season liberally with salt and pepper. Allow the venison to become a deep, dark, brown color while achieving a nice crust. Remove the venison to a plate lined with paper towels to drain. Repeat the browning process, working in batches, with the rest of the venison. Remove to the paper towel-lined plate.
Add the onions to the stockpot, season with salt and pepper, and cook until starting to brown, or roughly 3 to 4 minutes. Add the garlic and cook until the garlic becomes fragrant (trust me—you'll smell it). Add both of the chili powders, cumin, and the cinnamon to the pot and give a stir to mix with the onions and garlic. Pour the tomato puree, crushed tomatoes, and vegetable juice into the stockpot. Now add the browned venison. Stir to combine and increase the heat to high. Once the chili comes to a boil, reduce the heat to medium-low, cover, and cook for roughly two hours. Now is the time to taste and adjust the seasonings if needed.
Meanwhile fill a large stockpot 3/4 of the way full with water and place over high heat. Season the water with kosher salt until it "tastes like the sea". If I were to give a number, I would say 1/3-cup. Bring to boil.
Once boiling, add the pasta and cook one minute shy of the manufacturer's recommendations. Drain the pasta in a colander. Shock the strained pasta with cold water. This will stop the pasta from overcooking.
Now comes the best part: plating. Twirl a nice helping of the spaghetti onto the center of a dinner plate. Top with a heaping ladle of the chili, handful of the grated cheddar, diced onion, and the pickled jalapenos. Get each diner his or her own roll of paper towels and dig in!
As always, hunt, cook, share, and enjoy!