Recipe credited to Food Network: http://www.foodnetwork.com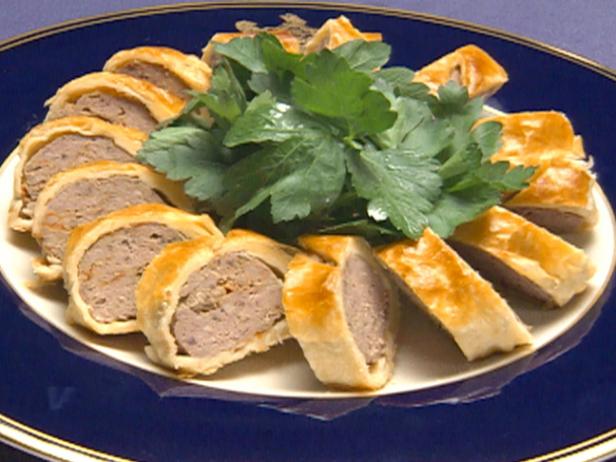 Total:
1 hr 15 min
Prep: 30 min
Inactive: 20 min
Cook: 25 min
Yield:
8 servings of 2 appetizers each
Level:
Intermediate
Ingredients
1/2 pound ground venison
1/2 pound ground pork
2 eggs
3 tablespoons freshly chopped parsley leaves
2 tablespoons freshly chopped fresh thyme leaves
1 tablespoon freshly chopped rosemary leaves
1 red onion, finely chopped
Salt and freshly ground black pepper
4 sheets puff pastry dough (often sold in 17 or 18-ounce packages containing 2 (9 or 10-inch) square sheets of puff pastry)
2 eggs, beaten for egg wash
Directions
Make "sausage" mixture by mixing venison, pork, eggs, parsley, thyme, rosemary, onion, and salt and pepper, to taste. Saute sausage mixture over medium-high heat on the stovetop until browned, using a wooden spoon to keep the texture of the mixture "fine" (not chunky) while cooking. Drain the meat mixture well and set aside to cool.
Preheat oven to 350 degrees F.
Roll out each puff pastry sheet and cut each of the 4 sheets into 4 squares, yielding 16 squares. (These will be 4 1/2 or 5-inch square.) Spread the "sausage" mixture, over the surface of each of the 16 squares and roll up the dough "jelly roll" style (so the cross-section of the roll will be a spiral design), seal dough on the ends by crimping, and place on a baking sheet. Bake until golden brown, approximately 15 minutes, until golden brown.