Wild Turkey with Cheddar Biscuits and Gravy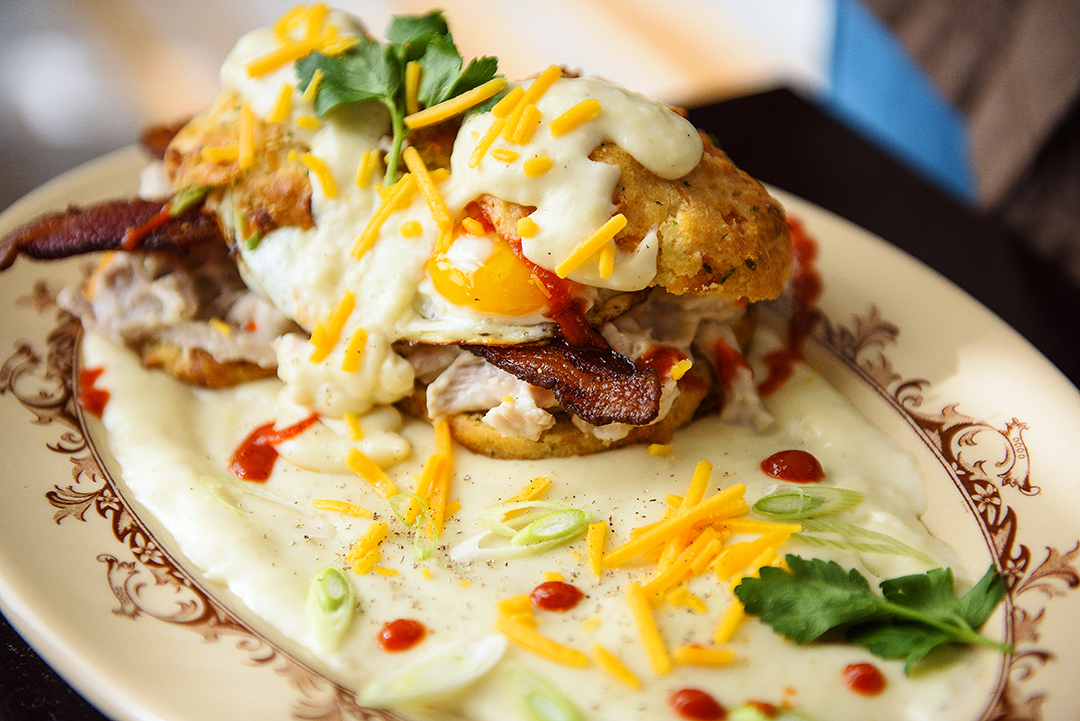 In 1917, Dr. John Kellogg, of Kelloggs Cereal Company, edited an issue of Good Health Magazine. In one article, the author wrote about breakfast: "It should not be eaten hurriedly, and all the family, so far as possible, should partake of it together."
Imagine both editor and authors' horror to know breakfast has been co-opted by highly processed foods such as sugary cereals, toaster pastries, grab-and-go breakfast bars, and high sugar puddings disguised as yogurt.
Here's a recipe using wild turkey that will help stop the madness for at least one weekend morning. So . . . put down the phones. Turn off the television, and video games, and enjoy some time together eating a hearty home-cooked breakfast using a wild protein you worked so hard to harvest. It will see you through your day, and get you some high-quality facetime with your Dear Ones.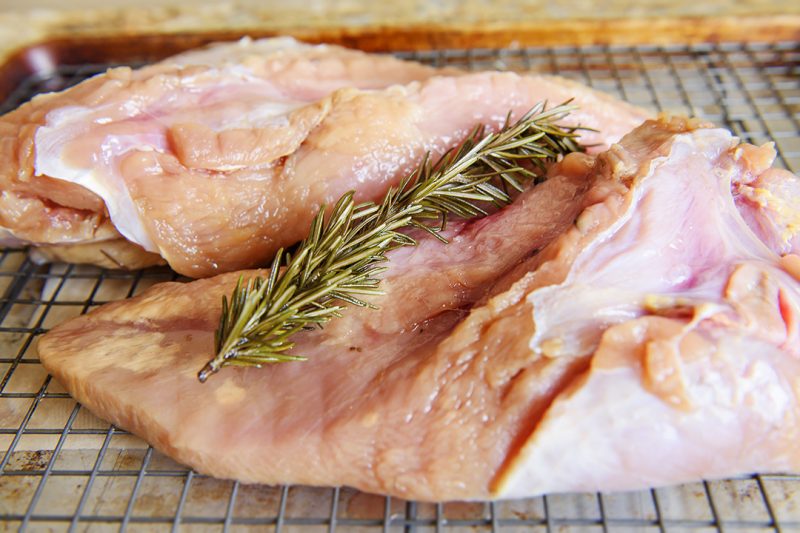 Poaching the Turkey Breast:
Begin by poaching brined and cleaned turkey breast.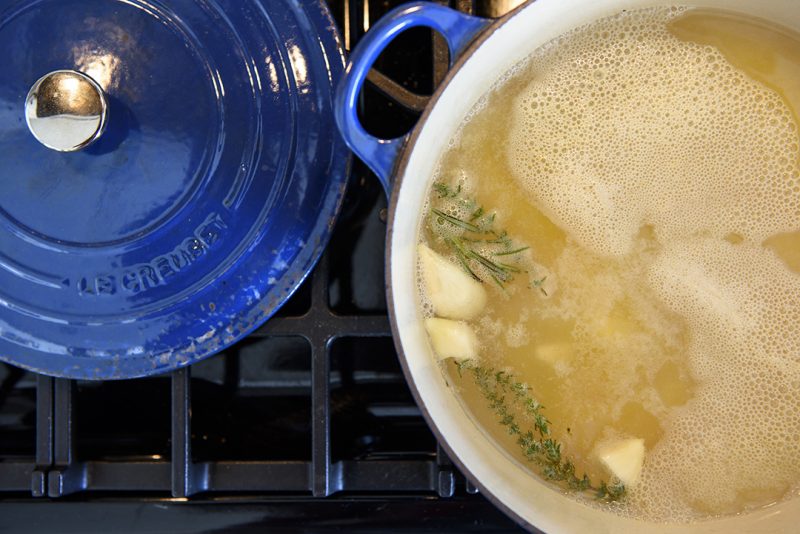 Heat any combination of water, stock, wine, or beer. Add some aromatics.  Whatever you have on hand is just fine. Scatter a little salt, too.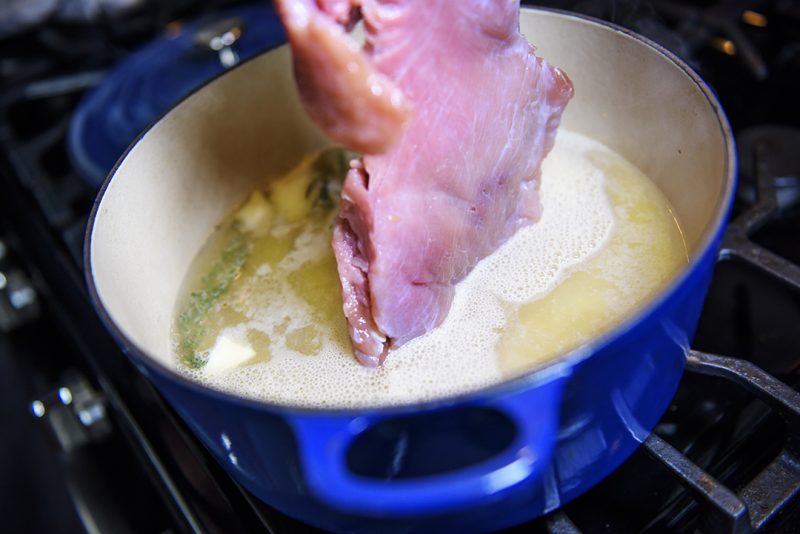 Bring the liquid to a low simmer. Add turkey breast. Cover, cook until done. This typically takes somewhere around 10-15 minutes.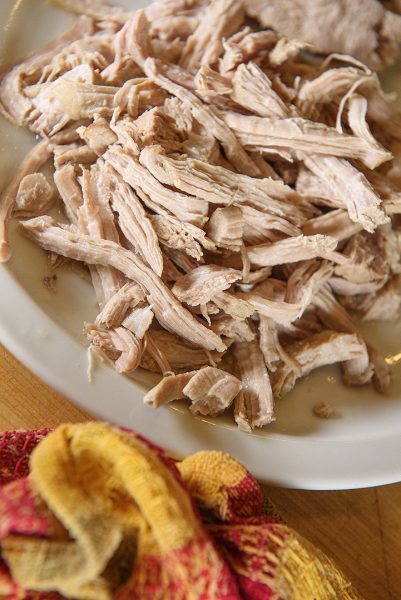 When done, remove from the poaching liquid and shred once the meat has cooled enough to handle.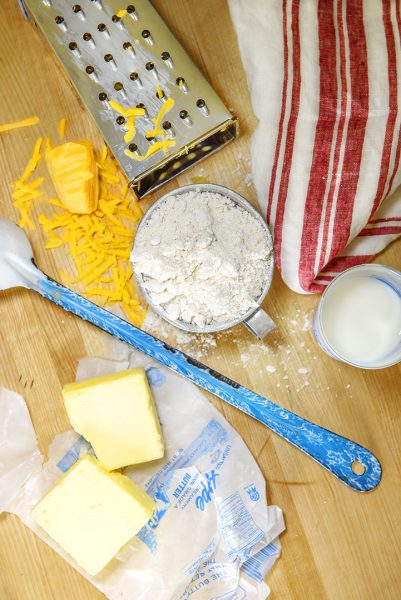 Ingredients for Cheddar Biscuits:
2 cups Original Bisquick™ mix
2/3 cup Whole milk
¼ cup Mayonnaise*
½ cup shredded Cheddar cheese
2 tablespoons butter or margarine
1-2 cloves smashed garlic cloves
Method:
Heat oven to 450 degrees.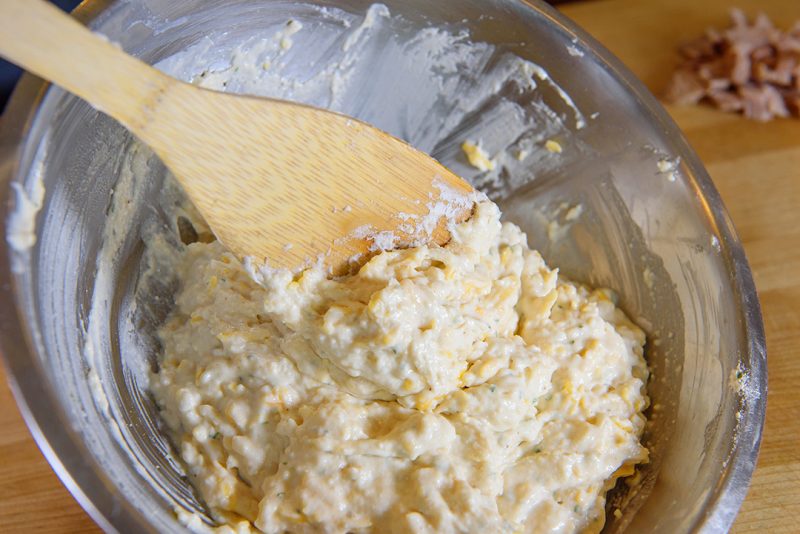 Stir Bisquick mix, milk, mayonnaise and cheese until soft dough forms. Do not over stir.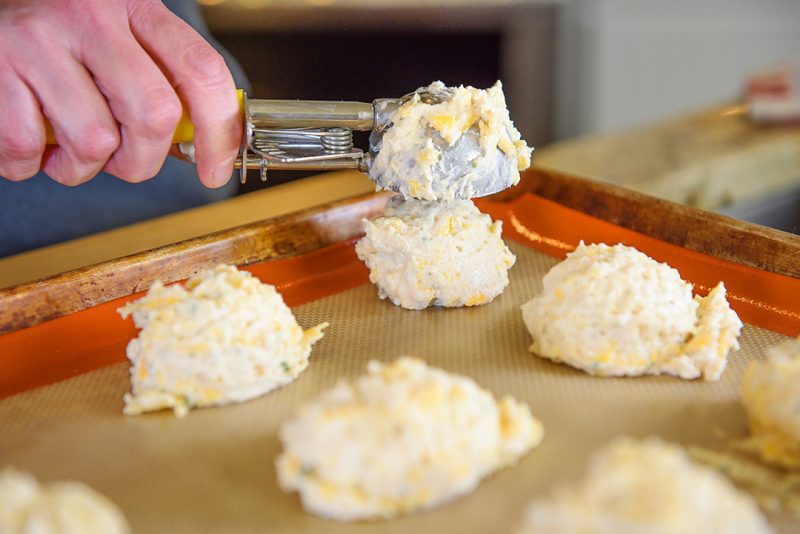 Drop dough by scoopful onto cookie sheet. Bake 8 to 10 minutes, or until golden brown.
While biscuits are baking, heat butter and smashed garlic cloves over low heat.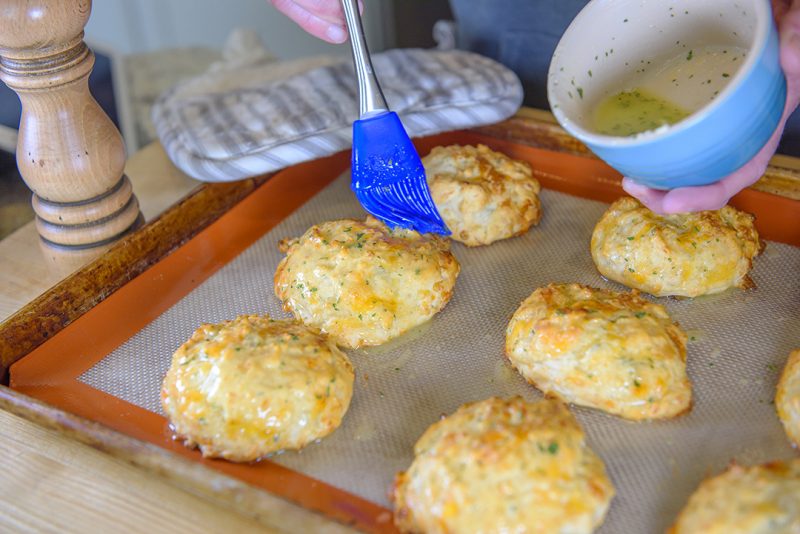 When biscuits are done, brush garlic butter over warm biscuits.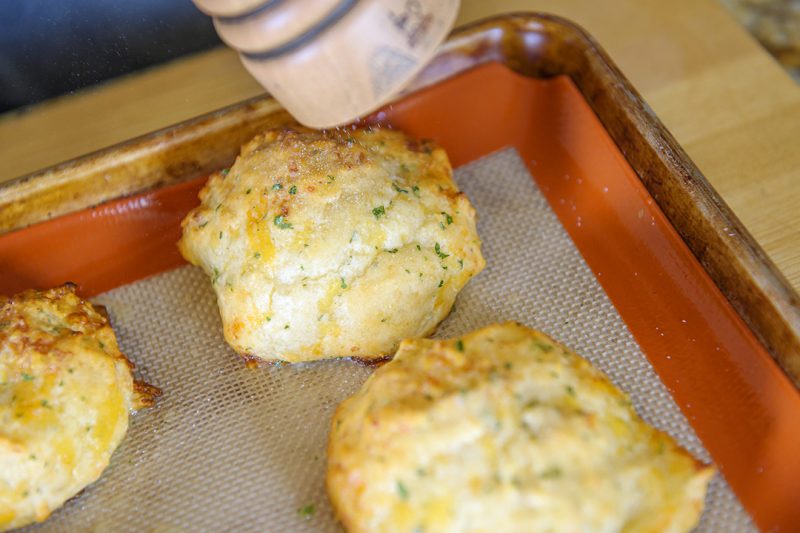 Add a crack of salt from your grinder to each biscuit.
*An old southern secret: The mayonnaise replaces the fat found in most biscuit recipes, and the vinegar in the mayonnaise makes the biscuits light and fluffy, in much the same way it does a pie crust.
Ingredients for Gravy:
1 cup shredded, poached wild turkey meat
2 T bacon grease, or butter
2-3 T flour
2½ cups whole milk
1 bay leaf
1 small shallot
1 whole clove
Method:
In a saucepan add milk, bay leaf, shallot and clove. Heat to a low simmer and hold for about 10 minutes to steep, or infuse the milk with the herbs and spice.
Melt fat over a medium-high flame in a cast iron skillet, or sauté pan. Add flour, stirring continuously until very light brown.
Slowly add milk to sauté pan a little at a time, whisking continuously. (Strain out the bay, shallot and clove.) Continue until gravy reaches desired consistency. Season with salt and pepper. Add shredded turkey. Heat and mix until incorporated.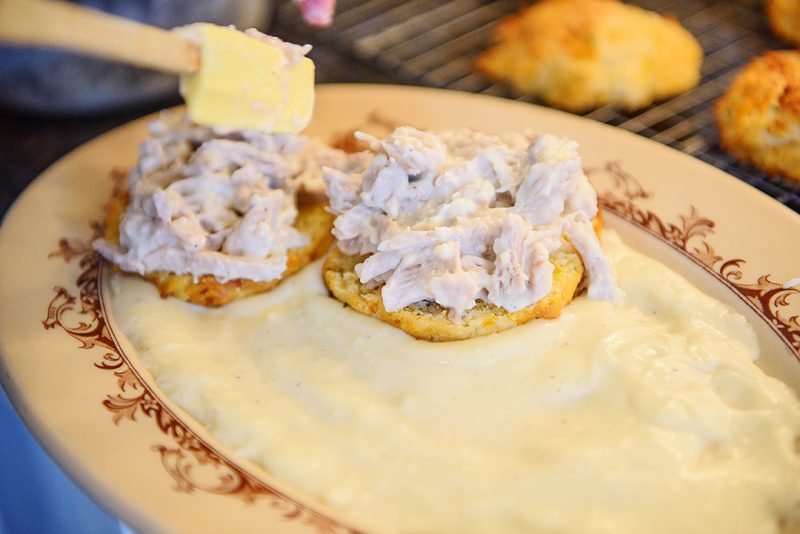 The Build:
Ladle gravy onto plate to cover. Split two biscuits, reserve tops. Sit biscuit base in plated gravy. Top with shredded wild turkey.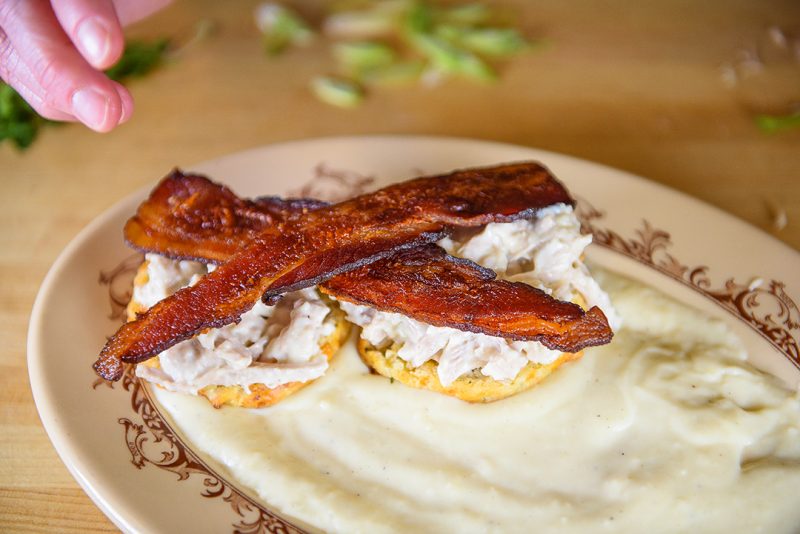 Next comes two strips bacon.
Layer with an egg fried sunny side up.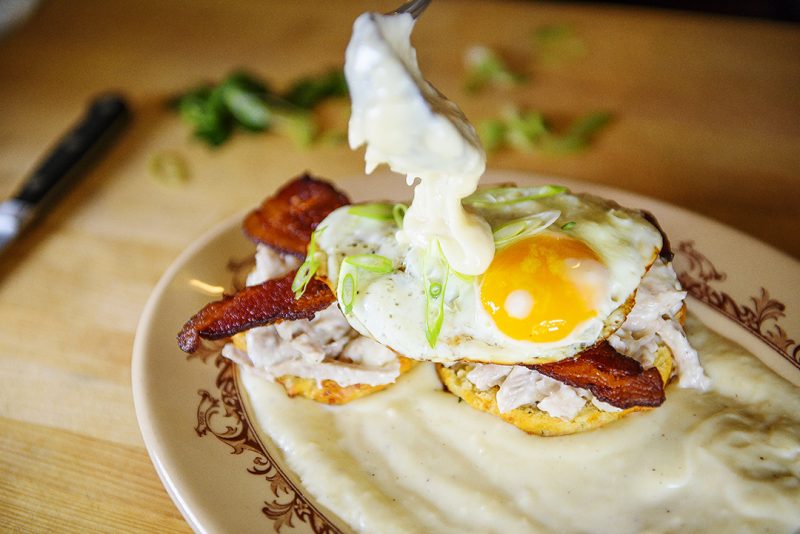 Add more gravy. A drizzle of pepper sauce is good, too.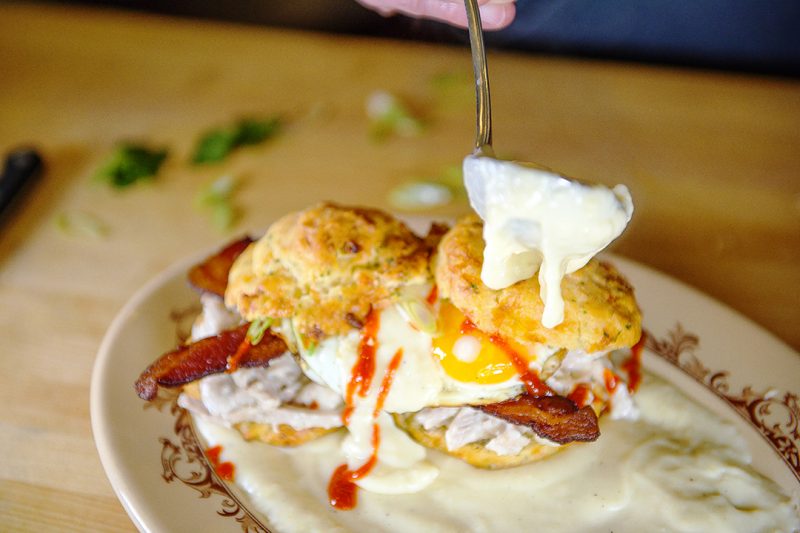 Cap with reserved biscuit tops. Add more gravy.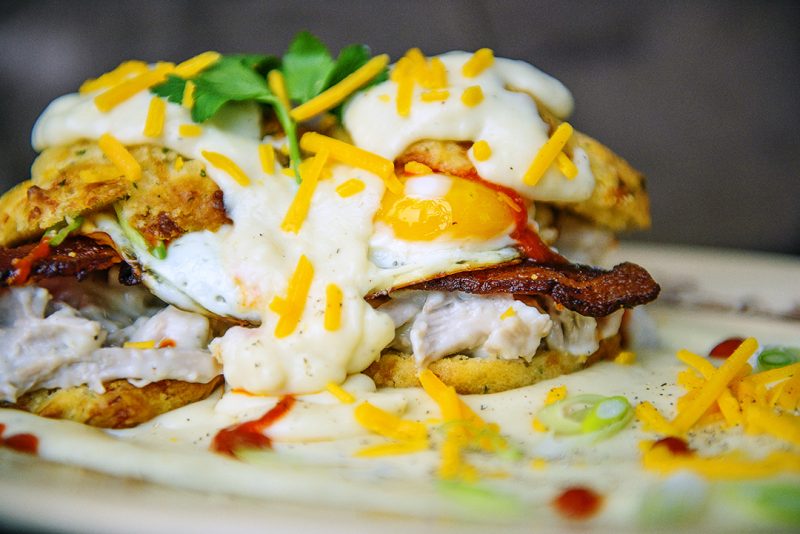 Sprinkle with cheddar cheese and garnish with parsley and sliced green onion.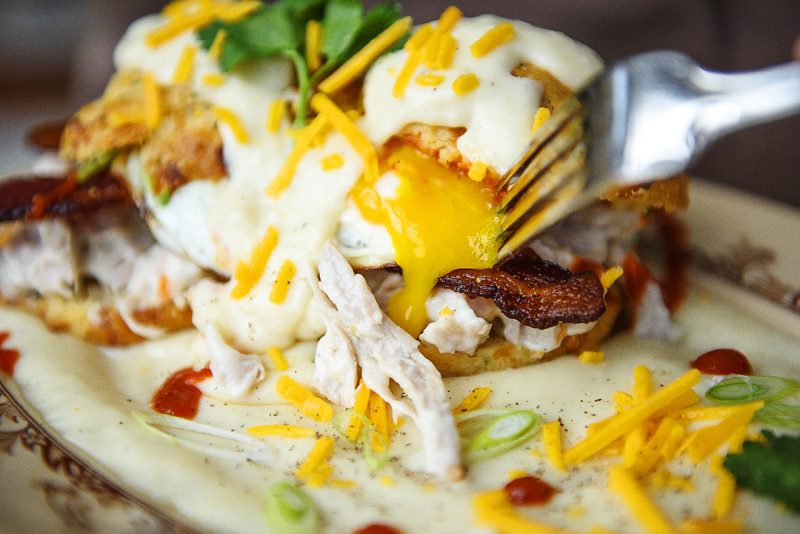 Pierce the yolk and dig in!